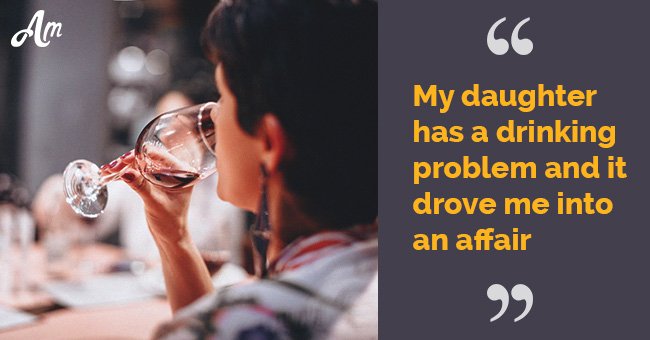 My daughter has a drinking problem and it drove me into an affair
I'm 44 years old, and I never married. I fell pregnant in high school and when my boyfriend walked out on me, I raised my only daughter on my own. It wasn't easy, but I did my best, and she finished high school, went to college and married a man she met at work when she was 23.
I was a bit hesitant at first because her husband is 12 years older, but he seemed devoted and she was happy. She had a baby straight away and seemed settled.
My daughter is now 27, and two years ago she started drinking heavily, and soon she was out of control. My son-in-law, 'Mark', would come home to find her unconscious and the baby crying. Things got worse and worse, but she kept saying it wouldn't happen again, that she would stop, but she never did.
We watched my daughter become a stranger who would sneak out of the house to drink in bars, and sometimes she would vanish for days. 'Mark' and I spoke to her together, tried to convince her to go to rehab, or join the AA, but she screamed at us and became violent. 'Mark' started dropping off my grandson at my house before he went to work every day and picking him up before he went home.
One night he walked in, and he looked so defeated. He sat on my couch and he started crying like a baby. I put my arms around him to comfort him, and he started kissing me. I don't think either of us had ever experienced such powerful emotions. We made love and it was beautiful. 'Mark' and I comforted each other. We spoke about it and decided it would never happen again, but it did. We can't stay away from each other.
I'm overwhelmed with guilt, I feel as if I am stealing my daughter's life. I am raising her son, loving her husband. Yet I know that my grandson and my son-in-law would be utterly alone without me.
I love my daughter, but I don't know how to deal with the woman she has become. I know it's an illness, but she refuses treatment. I've tried to end things with 'Mark' but he tells me he loves me, that I am his rock, his life.
He speaks of divorcing my poor daughter, of us marrying, having a child together. I just don't know what to do. Am I a monster, robbing my daughter of her family while she is suffering from a terrible affliction?
Do I deny my own feelings, throw away the love I never had and dreamed of my whole life? I don't feel capable of rational thought, and I'm too ashamed to speak of this to my closest friend. Help me, please. Help me to see this clearly.
If you need help or advice, reach out to us, and thousands of women just like you who are struggling with the difficulties of life. You are not alone, we are here for you, and we listen; so write to us anonymously using this form.
Please fill in your e-mail so we can share with you our top stories!