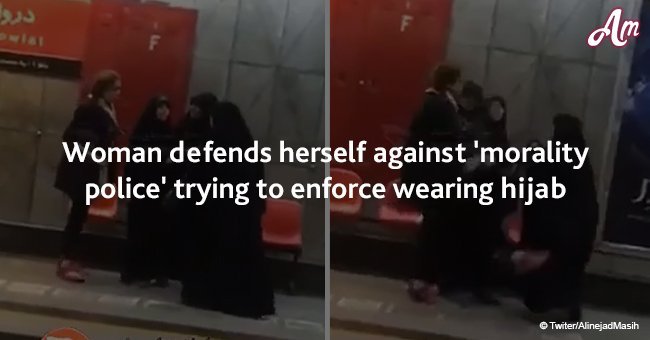 Woman defends herself against 'morality police' trying to enforce wearing hijab
Video footage showed a defiant woman challenging the people who questioned the morality of her fashion choice.
An unnamed Iranian woman fought back morality policewomen on a subway after they confronted her for not wearing a hijab.
Masih Alinejad posted a video on Tweeter which showed the woman attacking the agents in hijab at the Darzabeh Zowlat metro station in Tehran, Iran.
The footage reveals the woman booting one of the three hijab-wearing policewomen, who questioned her western clothing and fashion.
The woman can be heard screaming at the agents, "I will wear whatever I like. It's none of your business. You aren't my parents." She further chases the agents down the platform.
The agent who was booted by the enraged woman runs away in fear while screaming at her that she had "corrupted this society" with her ways.
After a while, a male metro operator intervened in the dispute and told the morality police that they "shouldn't intervene."
Alinejad, who shared the video on Twitter, highlighted the fact that the woman had 'had enough of morality police.'
She then added in her post, 'We are tired of being told what to wear we are fed up with compulsory hijab.'
Social media users poured in in numbers to support Alinejad's message. Her post was retweeted over 1600 times and was liked by about 5,000 people.
Alinejad has been highly vocal about Iranian rules regarding wearing hijab. One of her tweets also talked about how around 3.6 million women were 'either warned or sent' to court and about 40,000 cars were impounded for inappropriate hijab.
In the same tweet, she also pointed out that the rule has put 'women in danger for 40 years,' before further adding, 'Now we went beyond begging for our rights, we just take it.'
Please fill in your e-mail so we can share with you our top stories!