Tiffany Haddish reveals bizarre way she suggested spending the night with Leonardo DiCaprio
The actress has had her share of celebrity crushes, and opened up about how she tried to proposition a number of famous faces in recent times. 
Tiffany Haddish may only have risen to fame in 2017 as a result of her success garnered from her role in Girls Trip, but she has already taken Hollywood - and some of its most well-known actors - by storm. 
In a recent interview with The Hollywood Reporter, Haddish shared her encounter with Leonardo DiCaprio when she met him at a party a few months previously. 
"I asked him if he'd let me hit that. He's like, 'Tiffany, you're so funny.' I'm like, 'I'm serious.' And then he goes, 'I mean, I'd do it, but …' I was like, 'Come on, wasn't [sic] you in a squad? The coochie squad or something?'" she said. 
But Haddish wasn't quite done with her request. While she was definitely up for hopping into bed with the Oscar winning actor, she wanted him to portray a specific character he played in a movie.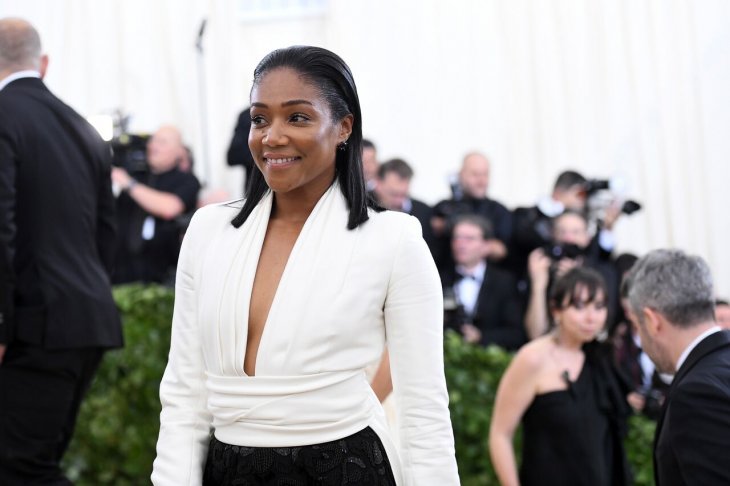 She wanted him to play 17-year-old Arnie Grape, the role he played in the 1993 drama film What's Eating Gilbert Grape. 
"He starts bustin' up laughin', 'Why?' he asks, and I say, ' 'Cause I feel like that performance deserves a real reward and that reward is this [gestures at her body],'" she told Hollywood Reporter. 
Following her request, DiCaprio started to talk about his experience playing the autistic character opposite Johnny Depp. 
But Haddish wasn't interested in the filming of the movie, only in whether or not she was going to be able to add another notch to her bed post in the form of the Titanic actor. 
In early March, Haddish also revealed to television personality Kelly Ripa that she would happily engage in a tryst with Brad Pitt if she got the chance. 
"Oh, I just met him on the elevator, he said in one year if he's single and I'm single we gonna do it, so you know what that means!" Haddish told the Live! With Kelly And Ryan hostess backstage at the Academy Awards.