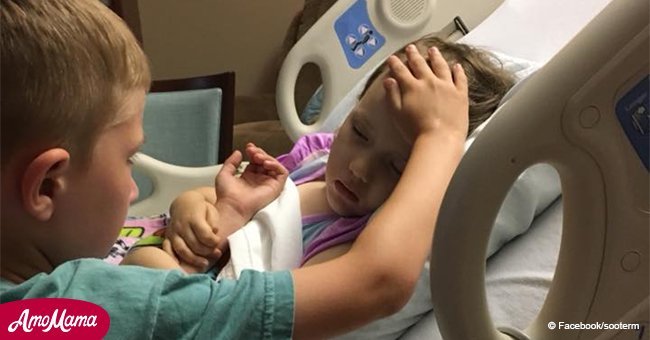 Dad shares heartbreaking photo of boy comforting his dying 4-year-old sister
A father posted a heartbreaking photograph of his daughter, who bravely defeated her cancer once but could not survive the battle.
Matt Scooter took to Facebook to share a tragic photograph of his son giving comfort to his four-year-old sister, Adalynn 'Addy' Scooter, only a few moments before she died from cancer.
The photograph showed six-year-old son Jackson caressing his sister's forehead with one hand while offering his other hand for her to hold as she lies in the hospital bed.
In November 2016, Adalynn was diagnosed with an inoperable brain tumor known as Diffuse Intrinsic Pontine Glioma (DIPG) that initially began with a slight difficulty in walking.
Thirty-three bouts of radiation initially killed the cancerous cells in Adalynn's brain but, tragically, returned. The family even tried an experimental chemotherapy in Mexico that cost them over $200,000 but none of it worked.
'A little boy should not have to say goodbye to his partner in crime, his playmate, his best friend, his little sister. This isn't how it's supposed to be. But this is the broken world we live in,' Scooter wrote in his Facebook post.
Speaking to Daily Mail, Adalynn's grandmother, Ann, told that the little girl's one of the legs started swinging strangely at first, which led the parents to take her to the hospital. Initially, they suspected it to be an orthopedic issue.
Ann also revealed that as soon as the doctors at Arkansas Children's Hospital diagnosed the issue as DIPG, they immediately told the family to enjoy their time with her because he was going to die.
Although initial chemo sessions seemed to have shrunk the tumor size, the doctors did warn them that the tumor would likely return.
"Her doctors told us that the tumor would come back aggressively and that once that happened there would be nothing we could do about it,' Ann said.
Please fill in your e-mail so we can share with you our top stories!