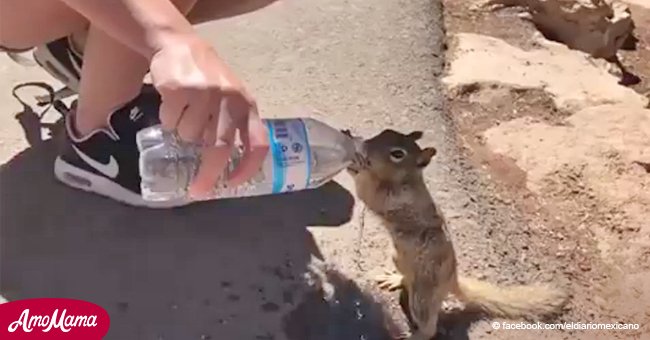 Little thirsty squirrel went viral for drinking water just like a person (video)
A singular squirrel is a sensation in social networks after drinking from the water bottle of a tourist from England who visited the Grand Canyon in Arizona, United States.
According to El Diario Mexicano, the couple came from the United Kingdom and opted to give a sip of water to the insistent and thirsty squirrel that demanded their attention that day in the Grand Canyon.
The suffocating heat and the burning sun of the Grand Canyon bother not only tourists but the squirrels that live in this corner of the planet. The couple has posted a video on Youtube that shows how this squirrel drinks water from a plastic bottle.
The tourist identified as Paul Camps decided to offer water to the small rodent after having seen him act in a 'peculiar' way.
He was admiring the view in the park, where temperatures oscillate around 87ºF at this time of the year, when he suddenly saw the squirrel acting strangely.
"The squirrel started to follow me and raise his arms towards me. When I passed the bottle of water to my girlfriend to take a picture, the squirrel began to make the same gesture, but now in the direction of her," said Paul on his social network.
Animals often manage to find water and thus quench their thirst and stay alive. And although sometimes it costs them to do it, most of the time they do it without major problems.
As this squirrel did, it could not stand the heat and needed to be refreshed with a couple of sips of water.
The National Park Service of the Grand Canyon recommends that visitors remain at a safe distance from wildlife, in the case of squirrels, about 50 feet (15 m) away.
And there is always the danger that if you get too close, they may scratch or bite you. But there is no doubt that the cute gesture of Paul, possibly saved the life of this little squirrel.
Please fill in your e-mail so we can share with you our top stories!