Maddox Jolie-Pitt doesn't have to see his father amid custody battle
Court order to see his father does not apply to Maddox Jolie-Pitt
Angelina Jolie and Brad Pitt were one of the most famous and powerful couples in Hollywood until the actress filed for divorce in September 2016.
The couple has six children, three of which are adopted, and three their biological offspring: Maddox, 16, Pax, 14, Zahara, 13, Shiloh, 12,  and twins Knox and Vivienne, 9.
Since divorce proceedings were initiated, the couple has been disputing custody of the six children, with Jolie alleging abuse on Pitt's part to demand sole custody. A subsequent investigation by Los Angeles County Department of Children and Family Services cleared Pitt of any wrong-doing.
The latest hearing has brought some changes to the custody ruling, with Jolie being ordered by the court to give  Pitt more access to his children. The court devised a strict visitation schedule for the children, but eldest son Maddox is excluded, reported People.com
'If the minor children remain closed down to their father and depending on the circumstances surrounding this condition, it may result in a reduction of the time they spend with [Jolie] and may result in the Court ordering primary physical custody to [Pitt].'
Court Order, People.com, 14th of June 2018.
The Judge determined that being kept away from their father is harmful to the children, and ruled that Jolie is obliged to facilitate Pitt's visitations, and if she does not, the court may attribute primary physical custody to her ex-husband. Maddox who is now 16 years old, will be permitted to decide which parent he wants to be with, and for how long.
Jolie is taking the children to London where she is filming Maleficent II, and the actor will be allowed to visitthem for several hours each day, though a  psychologist must be present.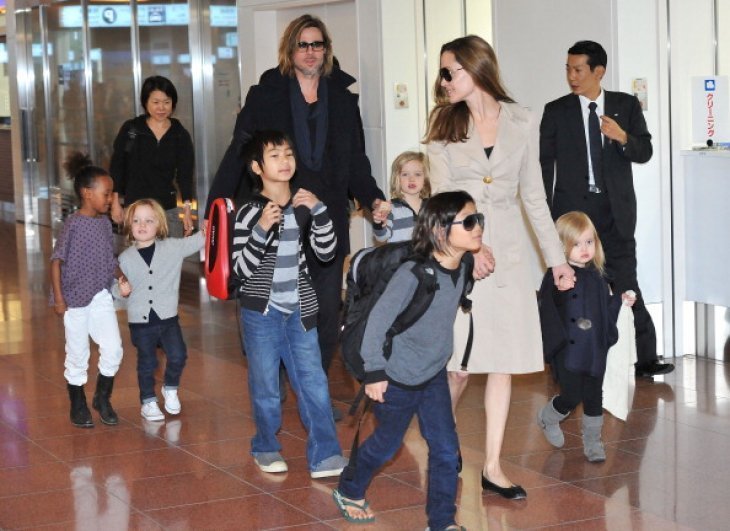 The judge further ordered that Jolie provide Pitt with the cell number of each child so he can text or call each of them, without Jolie monitoring the conversations.
Jolie's spokesperson has stated that the leaked court order has been quoted in a misleading way and that the exploitation of this painful debacle is not in the best interests of the children.
Read more Brad Pitt and Angelina Jolie on our Twitter account @amomama_usa.