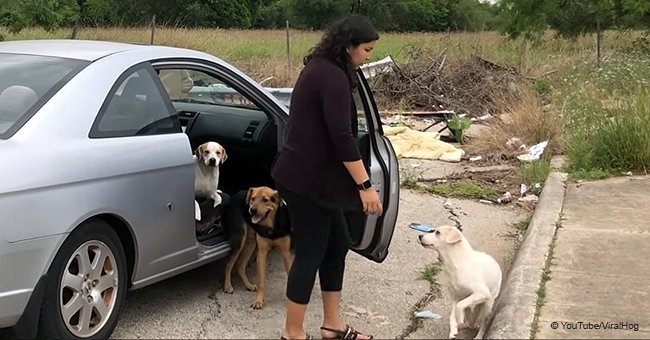 Texas woman caught red-handed abandoning her dogs
Thanks to the help of a concerned citizen, authorities were able to rescue at least three dogs dumped by a woman into the side of a road.
In a Facebook post, the City of Antonio Animal Care Services reported that they quickly rescued the animals after receiving a message about the abandoned dogs.
'Just two hours ago we received a message from a good Samaritan regarding a couple dumping 4-5 animals on a nearby street and driving off. Thanks to this good Samaritan catching the act on camera, contacting 311, and caring for these pets - our Animal Care Officers were able to rush to the scene and bring three of the dogs into our care,' the Animal Care Services shared in a Facebook post dated April 14, 2018.
In the video, a woman who appeared to be a passenger in the car can be seen leaving the dogs on the side of the road
Another woman who was recording the video can be heard telling the woman leaving the dogs to turn the animals over to the Animal Care Services instead of abandoning them. The woman didn't listen. She and her companion drove off, leaving the dogs to fend for themselves.
The concerned citizen posted the video on Facebook and it quickly went viral. The suspect surrendered to authorities.
Four dogs were reported to be abandoned, but ACS officers were only able to find three when they arrived at the scene.
In light of the incident, the ACS appealed to pet owners who decide to let go of their dogs to reach out to the organization instead of abandoning the animals. ACS looks for people who can foster dogs dropped off at their facility.
'If you are unable to care for your pets - please reach out to our organization. Dumping animals is ILLEGAL and there are serious consequences for this action,' the organization wrote.
Please fill in your e-mail so we can share with you our top stories!