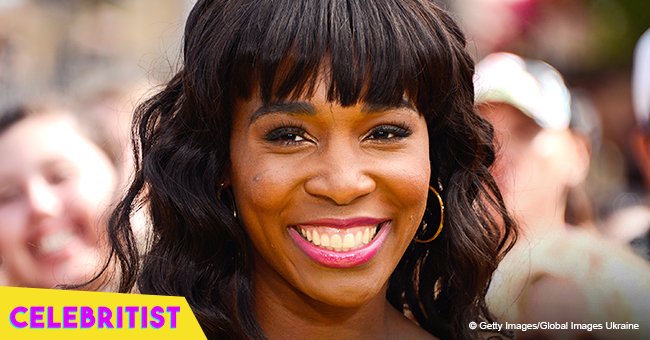 Venus Williams flaunts toned arms in tattered sleeveless shirt & skintight jeans during Paris trip
The tennis superstar takes a much needed break after her upsetting loss at the French Open. It's unclear whether she was joined by her rumored boyfriend but she's definitely glowing in her photo.
Venus Williams was a total stunner showcasing her toned arms at the Prince de Galles in Paris. Never mind that she recently made an early exit at the French open after losing her matches on the first day.
The tennis superstar had every right to wear a sleeveless top during her recent outing as it showcased her perfectly shaped tennis arms. She matched the tattered top with skintight jeans and gathered her long braided hair over her left shoulder as she lounged on a chair in an al fresco setting. The sister of Serena Williams completed her look with a pair of giant sunglasses as she enjoyed her relaxing afternoon. In her caption, she practiced her French writing,
C'est la vie! Deja vu and all that! J'adore Paris
Venus must have had a lot of time on her hands the week she posted her photo seeing that she made a surprisingly quick exit at the French Open just as it had begun. She lost against China's Qiang Wang during her first round at the tournament making this her earliest tournament exit in the span of her successful career.
While she totally deserves a break after that upsetting loss, it's unclear if she was joined by her rumored boyfriend Nicholas Hammond during her outing. The couple have been parading their love affair since she brought him as her date to her sister Serena's wedding in November. They were also spotted together at the Australian Open in January where Venus lost to her sister. In Easter, they packed on the PDA in New York City establishing their relationship out in the open.
Nicholas is 25 and is 12 years his girlfriend's junior but as much a millionaire as her. He's reportedly an heir to the TV Guide fortune and is the son of socialite Dana Hammond and her ex-husband James. As part of his work as a financier, he often travels between California and New York. Their family also owns properties across America and he has even brought Venus to their Palm Beach and Hamptons mansions.
At one point Venus was rumored to be engaged to Nicholas as she was spotted wearing a sparkler but her reps were quick to deny this telling the Daily Mail that the couple are definitely not engaged.
Please fill in your e-mail so we can share with you our top stories!