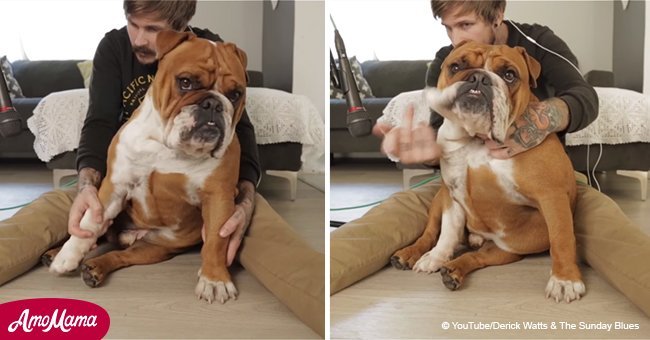 Here's how a musician uses his bulldog as an instrument
South African musician, Nic Smal, was at his creative best when he used his English bulldog, Banjoe, as an instrument.
The unique video was shared on YouTube on the channel named Derick Watts & The Sunday Blues on March 4, 2016.
Comedian and musician Smal created a catchy track, albeit without any traditional instruments.
For his music, Smal decided to use his own pet which could inspire people to do something similar with their pets too.
The video went viral with over 300,000 views and thousands of likes and comments. He has captioned the video, '…Because, dogs.'
The South African managed to record sounds made by his adorable bulldog and the used some clever mixing to create a really catchy tune.
Titled Beats by Bulldog, the video begins with simple beats made by hitting the dog on its tummy, scratching his head, and beats on his thigh.
This is followed by sounds made by banging the dog's paw on the floors, etc. Perhaps the funniest is the jowl sound followed by a perfect bark almost as if the dog was rapping. Throughout the 1:20-minute-long video, Banjoe seems to enjoy creating the music.
The two collaborated on another 'music video' that was shared on the same platform on December 6, 2016.
Smal and Banjoe 'returned to put a unique spin on the biggest pop hits of that year. Smal got the dog in front of a microphone and created entertaining music by using his pet as a living drum.
The video has been viewed more than 70,000 times with many subscribers saying that it was 'the best thing ever' and even complimenting Banjoe.
The channel was created by Nic and Gareth, a comedy duo from Cape Town, in 2011. They have shared unique and humorous videos inspired from original animated short films, music videos, parodies, and social satire.
Please fill in your e-mail so we can share with you our top stories!