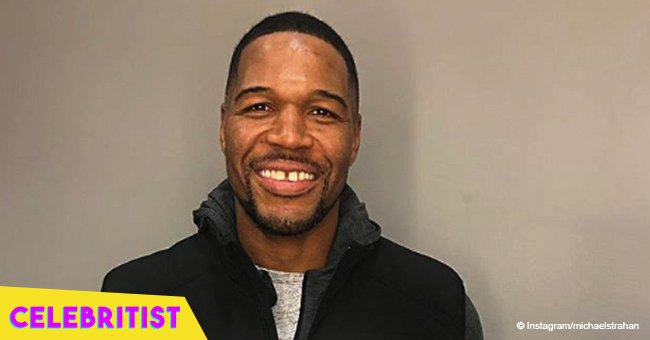 Michael Strahan shares touching photo with army officer dad who is his 'life coach'
Former NFL superstar and "Good Morning America" host, Michael Strahan, recently shared a beautiful photo with his dad in order to celebrate Father's Day. He opened up about how growing up with a military dad influenced his life and his parenting style.
Michael Strahan had an incredible career in the NFL. He played with the New York Giants for fifteen years and was inducted in the Pro Football Hall of Fame. After retiring, he became a media personality, and these days he's one of the co-hosts of ABC's "Good Morning America" and is also a football analyst on "Fox NFL Sunday."
Growing up, Michael used to call "home" army bases on places like Mannheim, Germany, and Fort Bragg, N.C. His father, Gene Willie Strahan, is a retired major and former boxer who taught his kids the importance of hard work and ethics.
The 46-years-old recently shared a photo with his dad on Instagram to celebrate Father's Day, and he sent him a heartfelt message through his caption, saying:
"Happy Father's Day to my Dad! Thanks for believing in me when I didn't believe in myself and pushing me further when I thought I couldn't push anymore! Character comes from character! Love you Dad!"
Speaking to the Military Officers Association of America, Michael opened up about everything he has learned from his father, from working hard and always striving to be the best, to teaching his own kids about perseverance.
"My dad is my biggest role model. I admire the way he raised my siblings and I to understand the importance of hard work and perseverance. He never let us give up on anything growing up," he said.
"I remember when I first started playing football as a kid, I hated it, but my dad always reminded me that when I signed up to play, I was committing to my team — something bigger than myself. If I quit, I wouldn't only be letting myself down, but my team, too. He taught me that respect, responsibility, and loyalty are earned through actions rather than words."
When asked how his father has influenced his parenting style, Strahan revealed:
"In a lot of different ways. Everything he ever taught us or did for us was rooted in love. I want to make sure my kids always feel loved the same way my father continues to make me feel [loved]. He also taught me that success is earned instead of delivered. I am incredibly proud of all of my kids and the incredible young people they are. I'm continually amazed by their achievements, but more importantly, I am inspired by the way they treat others and the way they carry themselves."
Michael is the father of four kids, Tanita and Michael from his first marriage to Wanda Hutchins, and twins Sophia and Isabella from his marriage to Jean Muggli. For him, the secret about being a good father also resides on believing in his kids even when they don't believe in themselves, just as his father did with him.
"My dad was always about when you're going to do something, not if. I believe in my kids 100 percent. When you have confidence in them, they have confidence in themselves."
Is good to see that Michael and Gene have such an incredible tight father-son relationship, we are sure the former mayor is proud of everything his son has achieved in life.
Please fill in your e-mail so we can share with you our top stories!