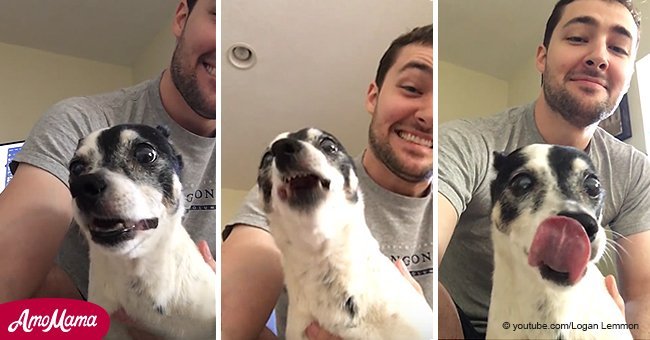 19-year-old rat terrier goes viral with her comical sneeze
The dog made an unlikely sound while sneezing, prompting people to make strange comparisons.
Logan Lemmon took to YouTube to share a hilarious video of his 19-year-old rat terrier, Maggie, having a sneezing fit. The sound that the dog makes while sneezing is truly one of the unique sneezing-sounds ever recorded.
In the video, Maggie is seen shaking his head violently while making a strange whining noise every time it sneezed.
In the description to the video, Lemmon wrote that he woke up to the surprising sound of Maggie's sneezing, which he dubbed as the 'most epic sneezing fit I've ever seen.' Lemmon grabbed his camera but was only able to catch the end of Maggie's sneezing fit.
He also revealed the old dog was struggling with some vestibular problems for the past few years. Throughout the video, Lemmon held Maggie so that it won't slam its head into the floor every time it sneezed.
He also informed through the description to the video that Maggie had recovered by the time he uploaded the video and there were no more sneezing fits since.
The funny clip quickly went viral on the internet. It has so far collected over 500,000 views and over 2,000 likes.
Maggie's strange sneezing sound surprise everyone who watched the video. Several viewers dropped comments comparing the sound to something completely unexpected.
A YouTube user, Zakaria Muhammad, commented that the sneezing sounded like 'when [your] remote control car flips and [you] still pulling the trigger on the remote to move.'
Another user, Aaron Explores, commented that Maggie sounded like 'a horse' every time it sneezed.
The sound of Maggie's sneezing fit was surprisingly similar to another Pomeranian puppy as seen in another video uploaded on YouTube. The brief clip showed the puppy named Roux creating similar 'horse-like' sound while sneezing.
Please fill in your e-mail so we can share with you our top stories!