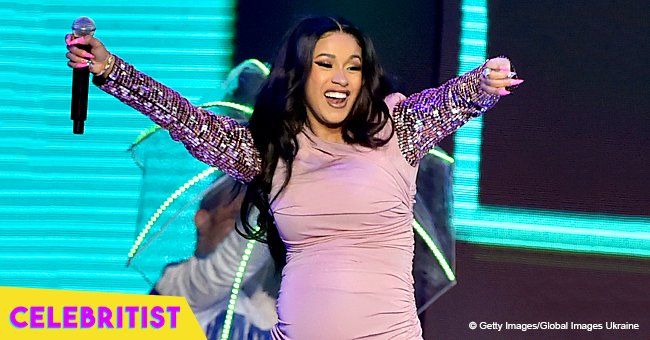 Cardi B performs at a party despite being nearly 9 months pregnant
The pregnant singer amazes as she makes a surprise performance with her fiance nearing her due date. She sings and dances in high heels to the delight of fans.
She's nearly nine months pregnant but Cardi B remains on the move with her unborn child as she hit the stage with her baby daddy Offset at the Hot 107.9 Birthday Bash.
The pregnant singer glowed in her skintight floral frock that showcased her ripe belly while she shared lyrics with her fiancé. At one point the proud father rubbed Cardi's bump eliciting cheers from the audience who were surprised by Cardi's appearance and appreciated the couple's onstage chemistry.
Amazingly, Cardi didn't look like she was out of breath nor was she keeping her moves simple as she pranced around with mic on hand and on baby pink heels while her husband hit up his tunes.
This is not the first time fans are seeing Cardi on stage since announcing her pregnancy. In fact, up until a month ago, the singer kept her normal routine appearing in shows, working on her debut album and even hitting the stage at Coachella.
But towards the end of April, the busy singer finally declared her maternity leave and announced she was canceling her upcoming gigs to focus on her pregnancy. During a performance at the Broccoli Fest in Washington, D.C. she announced it would be her last performance for a little while but she confirmed later that she'd return for her tour with Bruno Mars in September after giving birth.
Now it seems Cardi has taken a break from her maternity break sharing stage time with Offset. The couple who are expecting their first child together is gracing the July issue of Rolling Stone magazine and they their cover photo was something else. In the interesting pic, Cardi's blonde hair is teased to a bouffant hairstyle while she she wears a black velvet cropped top jacket and black heels. She skipped wearing bottoms and instead showcased her bare tattooed baby bump, hips and thighs are while her fiancé kissed the tip of her bump. Offset wore a red and black velvet jacket and pantsuit with black dress shoes.
Probably due to much excitement surrounding their Rolling Stone issue, their cover photo was prematurely revealed. It was intended to be released next month coinciding with the birth of Cardi's child but with the leakage, Cardi was forced to speak up and explain.
"I guess it was too much to ask to wait until the official July release of our @rollingstone cover! This cover is so special to me and means so much! Thank you to everyone who helped put this amazing cover together! Even tho it was leaked and suppose to be In gray f**k it. My daughter made it to the Rollin Stone cover!!!! Official release in July.You can't ruined what's for me.ROCKSTARS @offsetyrn."
Despite the leakage, it appears Cardi isn't letting any of that dampen her spirits as evident in her recent performance. She's becoming a mother soon, she has so much to celebrate.
Please fill in your e-mail so we can share with you our top stories!