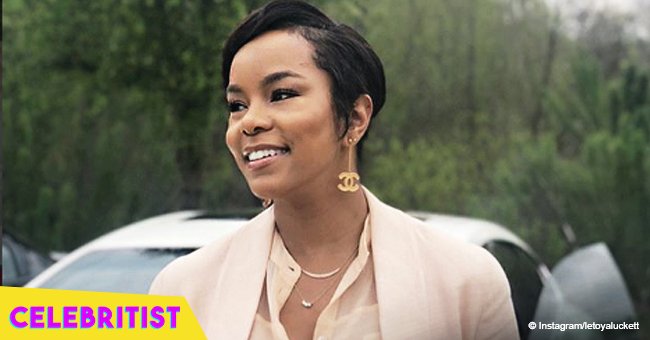 Letoya Luckett melts hearts with a video of husband washing daughter's hair
LeToya Luckett married her mystery man Tommicus Walker in 2017, just a year after she married and then divorced her first husband Rob Hillman. Now that the two are happily married, LeToya has embraced her husband's child from another relationship, and has acknowledged how good of a father Tommicus is.
Just in time for Father's Day, Luckett made sure to pay tribute to Walker through an Instagram post that shows him spending some quality time with his daughter. Now that Tommicus is a part of LeToya's public life, she made sure to show her fans just what kind of person her husband is.
"She can look at you with eyes of love because she trusts you. She trusts you because of your consistency. She follows you because you allow God to direct her path. Tommi, I admire the way you father Madison. U protect her, you correct, you provide for her & more importantly… you plan for her."
LeToya also proudly shared her husband's wonderful traits, making it pretty clear how easy it was to fall in love with her now-husband.
"You're patient & kind to her & every other word that defines love. You're basically making it super hard for her future husband (goodluck sir). I love you Tommi & I love the way you love our Madison. Happy Father's Day my love."
When LeToya and Walker got married, it was not just being a wife that she had to embrace, but being a mother as well. Tommicus' young daughter Madison is a part of their family, and Luckett shared on Instagram how scared and worried she first was when they were just starting out.
"As I recently walked into this new chapter of my life as a Wife & a mother-in-Love of a beautiful little girl, the worry began to knock at my front door. Am I built for this? I've never bee a mommy. My cooking skills are so ,so. My fresh smoothie game is aaiiiight. So I gotta share…everything? Will he still love me if? These are all the thoughts that started to flood my mind. overwhelmed with worry instead of seeing the blessing that God had actually giving me far & beyond what I've prayed for all of these years."
Despite this new challenge in her life, LeToya has since embraced her new role as mommy, and has had an amazing relationship with her step daughter thus far. She has been spending a lot of quality time with Madison, accompanying her to different places and even bringing her to work at times.
"Welp! Today I choose to STOP THE WORRY & put on my new crown as a WARRIOR!! A prayer WARRIOR for my family! A WARRIOR FOR GOD! I can literally feel a new strength come over me as I write this! My mom always said , " worry is sin" now I get it. God forgive me. Lead me! I bind up worry & fear & I will TRUST YOU with my whole heart. -Mrs. Walker"
Now that she has fully embraced her role as Mrs. Walker and a new mom to Madison, she has been showering her daughter and husband with love, and the family could not be any happier. Her marriage to Walker has brought out the love in Luckett, which has been evident by how the couple has been glowing ever since they got together.
Please fill in your e-mail so we can share with you our top stories!