Body language experts weigh in on relationship between Meghan Markle and the Queen
The Duchess of Sussex and the Queen of England get on like a house on fire
The newest arrival in the British Royal family, Duchess Meghan of Sussex seem to have made a friend. It looks as if Queen Elizabeth II has taken to the new Duchess.
Duchess Meghan and the Queen were at the official opening of the Mersey Gateway Bridge, in Cheshire on the 14th of June 2018.  The Royals were relaxed and friendly, whispering and giggling together like best friends.
Body language experts analyzed footage and photographs from their first public appearance together and emitted an opinion with regards to the relationship between the queen and Duchess Meghan, reported GoodHousekeeping.com.
Thank you Lilja, aged 7, and Nye, aged 6 for the beautiful posies for The Queen and The Duchess of Sussex #RoyalVisitCheshire 💐 pic.twitter.com/7SeMBhww4y

— The Duke and Duchess of Cambridge (@KensingtonRoyal) June 14, 2018
The experts who have analyzed different members of the royal family's body language have looked at what it reveals about their relationship with Duchess Meghan.
On her first solo royal engagement with the Queen, the Duchess was a little uncertain, feeling her way. Nevertheless, the two Royal woman bonded, laughing together and leaning towards each other in unconscious complicity.
VIDEO: The Queen & Meghan arrive in Runcorn. The lord lieutenant greets #DuchessOfSussex & reveals it's the first time she's been to the north of England. A slight air of nervousness as she waited to greet David Briggs (the LL of Cheshire) but told him "I'm very happy to be here" pic.twitter.com/LGRJ5rqW6a

— Emily Andrews (@byEmilyAndrews) June 14, 2018
Patti Wood, body language expert expressed the opinion that it is unusual to see the Queen laugh outright as she did at something the Duchess whispered to her.
This moment may be the cementing of their budding relationship. The Queen is unreservedly enjoying Meghan's company, and the Duchess timidly shows her admiration and affection for her husband's grandmother.  
The latest Tweets from AmoMama USA (@amomama_usa). AmoMama is the best place for every woman. We tell the stories that matter!. New York, USA.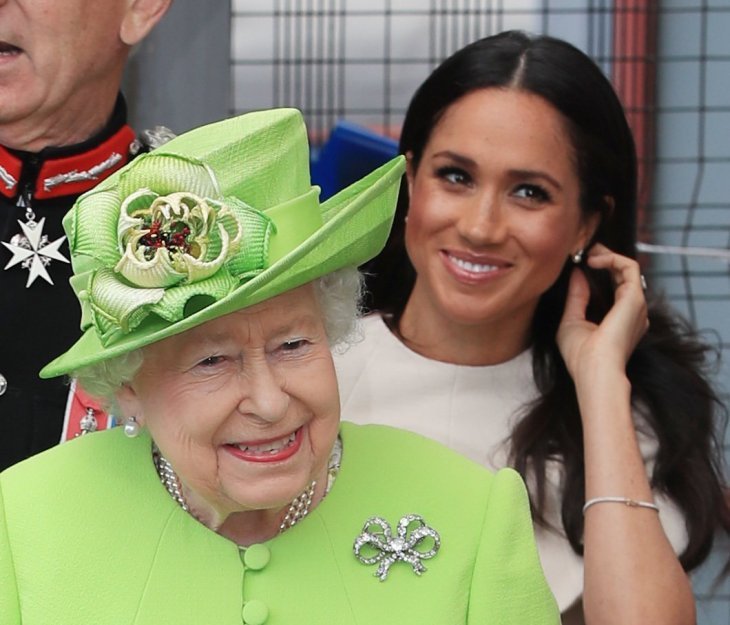 Another moment that showed how the family is accepting Meghan was when Prince Charles walked his son's bride down the aisle.
The Prince of Wales looked proud and wore a wide smile, very different from his usual controlled expression. He whispered a reassurance to the nervous bride and patted her hand affectionately.
Another Royal who has been seen to be openly affectionate is Camilla, the Duchess of Cornwall. The two duchesses were photographed leaning comfortably towards each other, and holding hands.  
The Duke and Duchess of Cambridge have always been affectionate towards the new Duchess, and several photos of their happy interactions have led the two couples to be nicknamed the Fab Four.