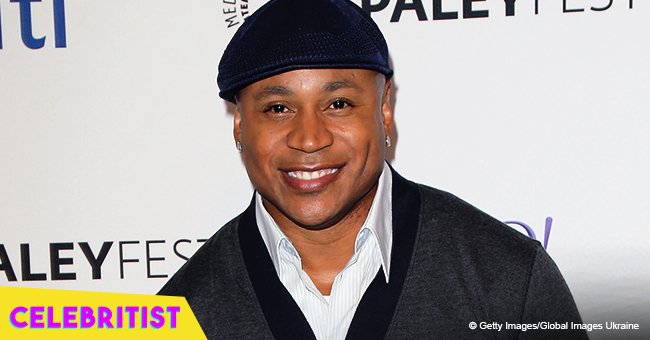 LL Cool J's daughter and son-in-law are all smiles in recent picture with their little son
LL Cool J's wife Simone Smith made sure to pay tribute to her daughter and her husband during father's day, by posting an adorable photo of the happy couple with their little son.
Just last year, LL Cool J walked her eldest daughter Italia Smith dow the isle to marry her now-husband Lamar Cardinez. Now that the couple has welcomed their first child, the proud grandmother gushed about her daughter and her new son-in-law on her latest post on social media.
On her Instagram, Simone posted a sweet snap of her daughter hugging her husband Lamar, while their son peacefully slept in a baby stroller right in front of them. The older Smith then proceeded to greet her daughter and son for their first wedding anniversary, and also for Lamar's first father's day.
"Thank you so much for blessing us with our first grandchild King-James. May God continue to bless your marriage and your beautiful family as it grows, with abundant love, peace, joy, success, good health, wealth, happiness, and unity (togetherness). never let anyone (family, friend, or colleague) come between your marriage. I love & admire you both. Walk together in GOD's light. Let him guide your footsteps. Happy Anniversary!!!! Happy Father's Day Lam!!!! Love, MoMa"
Likewise, LL has nothing but kind words to say about his son-in-law, whom he shared was a good guy while being interviewed by Extra. While speaking to Renne Bargh about her eldest daughter's wedding last year, he happily said: "I didn't lose a daughter, I gained a son. That was fun, you know what I'm saying? Beautiful ceremony.".
The beautiful wedding happened just a day before father's day last year, and the star-studded event took place at the Sparkling Pointe Vineyards and Winery in Long Island, New York. Guests included the likes of Mary J. Blige, Niecy Nash, Cookie Johnson, Bill Bellamy, Vanessa Bell Calloway, and Monica.
Prior to their marriage, Lamar and Italia were engaged in November 2015. The couple was not in a rush to get married, and they really took their time to prepare, all with the help of their loving and supporting parents who helped and guided them throughout the entire marriage process.
Please fill in your e-mail so we can share with you our top stories!