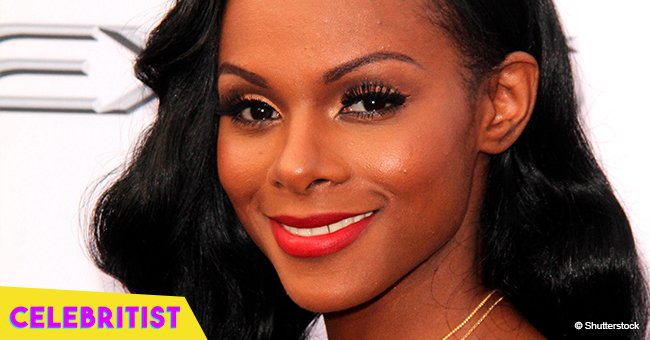 Tika Sumpter's fiancé melts hearts with pic of his 'queen' after interracial relationship criticism
Nicholas James is one of the luckiest men in the entertainment industry. Not only is he engaged to Tika Sumpter, but they have a beautiful baby together. The man shared with fans his undying love for the actress, despite the hating they get for their relationship.
Tika Sumpter, better known for her roles in series like "The Haves & The Have Nots," and the TV film "Southside with You," announced her first pregnancy after six months of knowing she was expecting. The gorgeous lady didn't want to deal with all the questions coming from the media and fans, especially the "who's the father?" one.
She was reticent about sharing the identity of her boyfriend at first, and her fears were not totally unfounded, because when she did reveal who was her man, some fans started to criticize her.
"I didn't want to hear, 'Who's the dad?' Social media can be harsh, and I'm a mama bear, protective of my family. So that's why I waited to tell people, including some of my friends," she confessed on "The Real" earlier last year.
Nicholas and Tika met on the set of the OWN series, and he proposed to her on Christmas 2016, the first they shared together with their little girl, Ella-Loren. The actor, who started off his career as a model, is a great dad, according to Sumpter, who gushed about him saying:
"I love my fiancé Nicholas so much. He's a great dad, I mean, Ella loves him. As soon as he comes in the room she lights up. He's just a really great dad, he's there. He's very present."
James feels exactly the same for his gorgeous soon-to-be-bride, and despite all the critics they get on a daily basis from people that can't stand to see others happy, he's a man in love and is not ashamed to show it on social media.
Just a few weeks ago, he shared a beautiful pic on Instagram with Tika while having lunch in front of the sea, and we can tell they were having a great time thanks to her radiant smile. He took the chance to thank her for being an incredible mom, writing:
"Happy Mother's Day to my queen! Thank you for birthing our gorgeous girl. You're the strongest woman I know and I couldn't have asked for a better partner to teach our little gift from God. Love you! @tikasumpter"
After Ella's birth, the couple worked as a team to keep the little girl away from social media, or at least her face. She's now two-years-old, and the only photo Tika has shared of her face was a throwback picture from when she was 6-months-old. Her caption, however, let fans know more about her pregnancy, as she wrote:
"Baby Ella-Loren at 6 months. You're almost 2 now. You changed my life in every way. Carrying you was magical, but delivering you was complicated. I had pre-eclampsia and was told I could seizure or bleed out. I cry thinking about it. You are my miracle. You are my magic. @nickjames138 thank you. #mothersday #ellaloren #helloworld"
The 37-years-old actress is currently busy with work, and maybe that's why she didn't share a congratulatory Father's Day post this year but Nicholas did it, sharing a beautiful picture of their growing daughter in a rose path, wearing a denim jacket and sweatpants while touching a flower.
He wrote the sweetest message to his daughter, and took the chance to thanks Ella's grandfather as well:
"My proudest and most life-changing accomplishment in life has been fathering this amazing Little being. Watching her heart grow is my greatest contribution to this world. I thank my father for instilling me with love, compassion, strength, and morale."
Tika and Nicholas make a gorgeous couple, and even with all the hating comments they get, they look radiant and totally in love. We're glad to know they're stronger than the haters because they deserve all the happiness.
Please fill in your e-mail so we can share with you our top stories!