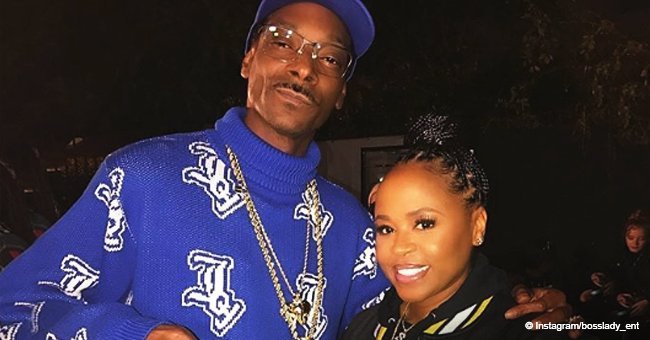 Snoop Dogg and wife rock identical black and white outfits in picture from Father's Day
Snoop Dogg and his wife Shante Taylor donned matching black and white designer wear while celebrating Father's Day with their two children.
While Snoop Dogg and his wife recently celebrated their 22nd marriage anniversary together, the couple also celebrated Father's Day, something that pays tribute to the wonderful man in their family.
In their Father's Day photograph posted on Instagram, the adorable couple donned matching Gucci sweaters, while adorned in matching gold chain jewelry while smiling beside their children
Snoop and Shante met when they were only in high school. Since then, they have had three children named Corde, Cordell, and Cori. However, the rapper also has a son from a previous relationship with Laurie Holmond, who was born inbetween Cordell and Cori.
Despite having a child out of wedlock, Snoop and Shante continued their marriage until 2004, when he filed for divorce citing "irreconcilable differences". While this might be the case, a 2006 Rolling Stones article has Snoop admitting that he was an actual pimp from 2003 to 2004, which might have been one of the reasons for their faulty marriage.
In the interview, he shared how while other rappers speak about pimping just to fit the scene, he was an actual pimp.
"I'd just say I had it like that. See, that [expletive] was my natural calling and once I got involved with it, it became fun. It was like shootin' layups for me. I was makin' 'em every time. 'Cause pimpin' ain't a job, it's a sport. I had a [woman] on every exit from the 10 freeway to the 101 freeway, 'cause [women] would recruit for me. I had barracudas – seven or eight of 'em. When a [woman] recruits for you, she goes out into the club or the environment and brings back other bitches and makes 'em my [women]. That's pimpin'."
This type of lifestyle took a toll on his relationship with his wife, who was aware of the pimping, but kept turning a blind eye on it. When he filed for divorce, his pimping lifestyle got even heavier, and he was known for it. It was only in late 2004 that some of the pimps he was with told him to "go back to his wife". The estranged couple ended their divorce proceedings, but only after Snoop vowed to become a better husband.
"Before, I would never listen to her. Everything I say is law. But on the comeback, I'm more of an ear instead of a mouth, instead of a hand. Sometimes it irritates me to hear her talk shit to me, but when it's right, that's the way it supposed to feel."
Now, the happy couple are doing better than ever, and they have been going strong since their turbulent past.
Please fill in your e-mail so we can share with you our top stories!