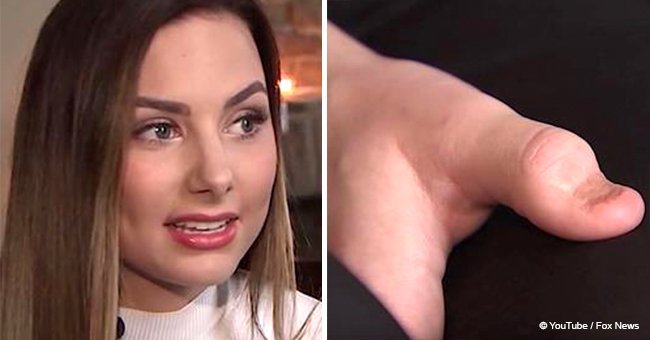 Miss Illinois was told by doctors that she developed skin cancer 'from getting gel manicures'
Karolina Jasko was diagnosed with melanoma. The doctors told her the skin cancer had developed from her 'getting gel manicures.'
In 2016, The beauty queen, then 18, noticed a black line on her nail. She went straight to the doctor to have her nails checked - and she was diagnosed with skin cancer called melanoma.
Karolina, the current Miss Illinois, is now 20 years old and her thumb is scarred by cancer. Her affected nails are all gone.
"I got a black vertical line under my right fingernail and I never really noticed it because I always had acrylics," Karolina told Fox 32.
She added: "The doctor said I most likely got it from getting my nails done at the nail salon, from the light"
The light she's indicating to is a device that releases UVA rays to cure gel manicures.
Dr. Carolyn Jacob told Fox 32: "Whether indoor tanning, UV lamp, outdoor tanning, all of those can cause aging of the skin and potential for skin cancers."
Dr. Jacob also said that Karolina is more susceptible to the disease because she does have a history of melanoma in her family.
The doctor believed it's really necessary to take precautions when using light boxes during manicures.
She recommended wearing sun cream to help protect the hands while having gel nails applied.
"Use a sunscreen that has a physical blocker like zinc oxide or titanium dioxide to cover all of your skin," said Dr. Jacob, who is the director of Chicago Cosmetic Surgery and Dermatology.
Karolina, who is now preparing for the annual Miss USA pageant, wanted to use her platform to spread awareness about melanoma, a form of skin cancer that arises when pigment-producing cells known as melanocytes mutate and become cancerous.
"Being Miss Illinois USA helps me a lot because I get to talk about it with large groups of people and I feel like I get to bring awareness," she said.
Please fill in your e-mail so we can share with you our top stories!