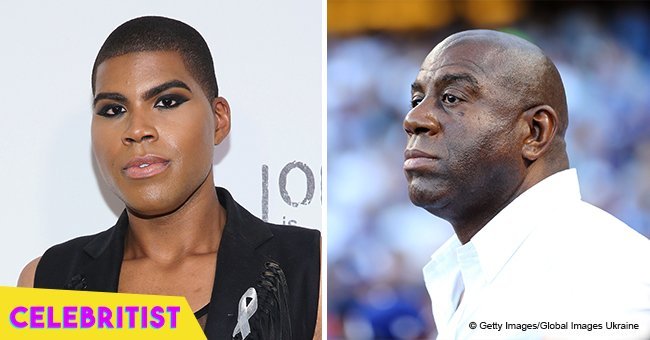 EJ Johnson flaunts bare chest in black jacket after revealing it had been 'tough' coming out to dad Magic
He's known for his amazing and always daring fashion style, and EJ Johnson didn't disappoint with his outfit at the MTV Movie Awards, flaunting his chest in a black jacket. The young man recently opened up about coming out to his dad and how difficult it was.
EJ Johnson is the son of one of the most iconic NBA players of all time, Magic Johnson, and while most people would expect the son of a basketball player to be a tough man, EJ doesn't play along with society's expectations.
The 26-years-old fashionista has become a fashion icon thanks to his gender-fluid intake on clothes. He wears skirts, high heels, dresses, crop tops and a lot of makeup, and his androgynous style has earned him a place in the LGBTQ+ community as a leading voice for gender fluidity.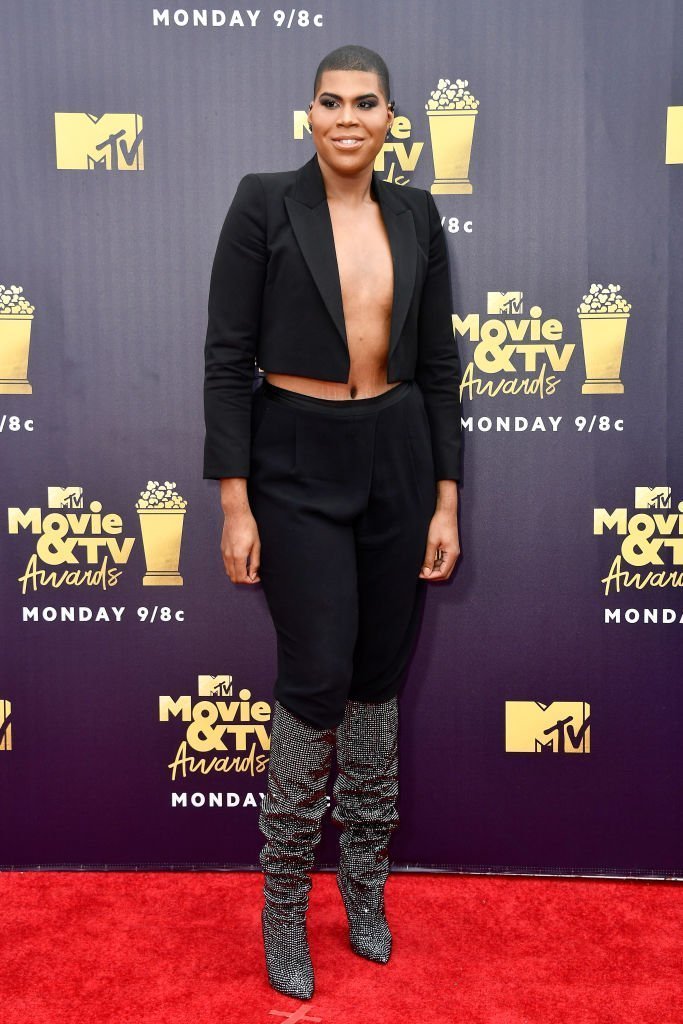 Credit: GettyImages / Global Images of Ukraine
EJ looked stunning at the red carpet of the MTV Movie Awards' wearing a black jacket with nothing underneath that put his chest on display, black pants, and high boots, as he exuded confidence and beauty.
However, even he's unapologetic about his sexuality and identity these days, coming out was not as easy for the young man.
EJ and his mother, Cookie Johnson, visited the "Red Table Talk" show hosted by Jada Pinkett Smith, her daughter Willow, and mother Adrienne, to talk about sexuality, gender, and relationships in the entertainment industry. In the show, Cookie revealed that she was the first one to notice that her son was not like the other kids since he was three years old.
The little boy wanted to get princess costumes at school, and when they enrolled in baseball lessons, he was more entertained by the flowers on the field than the actual game. By the time he turned 15, he had accepted he was gay, and after a trip to Hawaii where Cookie noticed him watching men in swimsuits, they had the talk.
Cookie embraced her son and assured him she would love him no matter what, but she also asked him for discretion, telling him "You can be happy in your room, but don't let dad see you. So it was all of that."
However, when the time to talk to Magic came, it was a rough moment for the family. "'My husband is the type of person, he reacts quickly, so everything that came to the top of his head, he just let it out," Cookie said, adding:
"And I was like, it hurt my feelings and I know it probably hurt his feelings when he'd go, ''It's not what I wanted for my son and do you realize what you're saying because the world is not going to like that and do you want to live this life?''
After the conversation, Cookie told her husband that he was being tough, and the next day, he visited EJ in his bedroom. "He just was like, "we're gonna get through this, I just need time" and we both just started crying a little bit," said EJ.
"But then, I moved to New York to go to college and when he came back to visit, he picked me up for dinner and was like ... he hugged me so hard, he almost broke my back and then at that point I was like, we're gonna be okay. I could really feel the love. We're gonna be fine," he added.
Since then, Magic and Cookie have shown nothing but their full support and love for EJ, and in fact, a few days ago, on his 26th birthday, Magic shared a photo with his son on Instagram to wish him a happy day, and that earned the former baller critics from square minded fans.
But as his son, Magic has learned to ignore the haters and instead be grateful for his family and all the opportunities they have.
We're glad to know that despite his initial reaction to EJ being gay, Magic Johnson has now embraced his son and he's aware of the big influence EJ has in so many young people that look up to him.
Please fill in your e-mail so we can share with you our top stories!