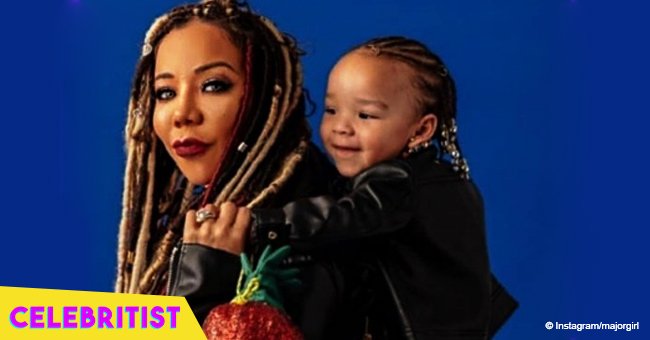 Tiny's daughter Heiress melts hearts while singing 'Twinkle Twinkle Little Star' in recent video
Little Heiress Diana has been stealing fans' hearts all over social media thanks to the cute videos and photos her famous mom shares of her. She just turned 2-years-old last month, but Heiress seems to be a little territorial when it comes to her mom, Tiny Harris.
Tameka "Tiny" Harris is the mother of four children, but her bond with Heiress Diana, the youngest of her kids, is special. The girl, whom she shares with husband T.I, was born at a time when the couple was going through a rough patch.
The adorable mother-daughter duo graced the cover of Rolling Out magazine last month in their Mother's Day special, and Tiny took the opportunity to open up about motherhood and her smart little girl.
"This time around has been a more fun experience because I'm able to enjoy being older and enjoying motherhood from an older perspective. She came at a time that was perfect. She is the best gift ever," gushed Tiny of her daughter. The girl is already learning the abecedary, and she has shown how smart she is at her age in several videos shared by Tiny on Instagram.
Like her mom and older sister, Heiress loves to be pampered and look cute, and not only are her outfits, hair, and nails always on point, she already has a business under her name, started of course by her mom, who revealed:
"She has nail polish line, and a baby product line called "Major Baby" that includes shampoo, conditioner and body lotion. We're really excited about it. When I was pregnant, I had the idea of an organic line, and this is the by-product of that. She loves to get her nails polished, so we wanted to create something that other little girls could enjoy as well."
Fans of the Xscape singer love all her children, but they have a soft spot for Heiress and with all due reason. In a recent clip shared on Harris' Instagram stories, the 2-years-old is seen singing "Twinkle Twinkle Little Star" while smiling brightly and her mom cheers for her, earning a lot of praises from social media users.
"She's so sweet. Everyone that's around her always comments about how she's such a sweet baby. Of course, she gets all of that from me," said Tiny.
Heiress is also showing how territorial she can be when it comes to her mother, as Tiny recently shared an adorable photo of the girl sleeping on her chest while mentioning on her caption that Heiress tends to forget she's not an only child.
"Where she wanna be!! All over me!! My Sunshine @heiressdharris she really thinks she's my only child #TooLittleToBeSoTerritorial."
We're sure Heiress' territorialism will get better with time, after all, she's a pretty smart girl already.
Please fill in your e-mail so we can share with you our top stories!