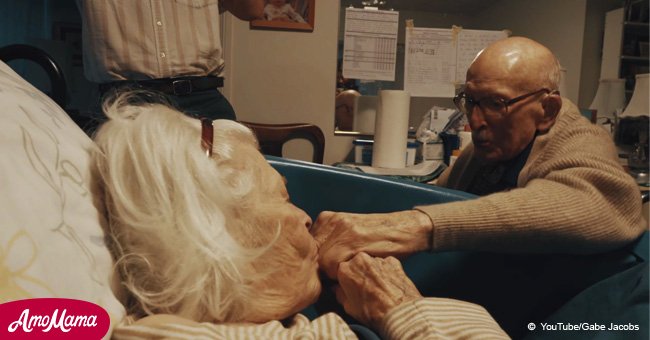 Touching video shows the moment 100-year-old couple celebrate their anniversary
105-year-old Arthur Jacobs and 100-year-old Marcia celebrated their 80th anniversary as she lies on a New York hospital bed.
The incredible video was captured and shared on YouTube by their grandson, Gabe Jacobs, on October 23, 2017.
True love can last a lifetime and Arthur and Marcia are an embodiment of that. The couple was married in 1937 and loved his wife even after eight decades.
The man said "I love you" to his wife, though she struggles to communicate. All she can say is "Hello hello," but kisses his hand when he made the declaration to her.
Arthur and Marcia are one of the oldest couples in the United States, having begun their romance since before the outbreak of World War II.
Arthur says, "I love you, I've loved you for 80 years, honey, that's a long time." The heartwarming moments were captured Gabe, their grandson and a Brooklyn-based filmmaker.
Gabe wrote, 'Arthur is a beautiful man and so incredibly in love with Marcia. You can tell how sad he is that she is no longer really here.'
He said that Arthur, born on August 19, 1912, and Marcia, born on June 25, 1917, first met at the University of Wisconsin.
Arthur, who hails from Hammond, Indiana, worked for the War Manpower Commission in Washington, DC, during the war. He later earned his Ph.D. in Economics from the University of Michigan.
Marcia, who is from New York, worked as a director of social work at Hebrew Home for the Aged in Riverdale, New York.
The couple lived in Larchmont, New York, for years, and they now live in Rye. They have two children, six grandchildren, and two great-grandchildren.
The 1.47-minute-long video went viral on YouTube garnering over 240,000 views and hundreds of likes.
Gabe said he was proud 'to have descended from these superhumans.'
Read more on our Twitter account @amomama_usa.
Please fill in your e-mail so we can share with you our top stories!