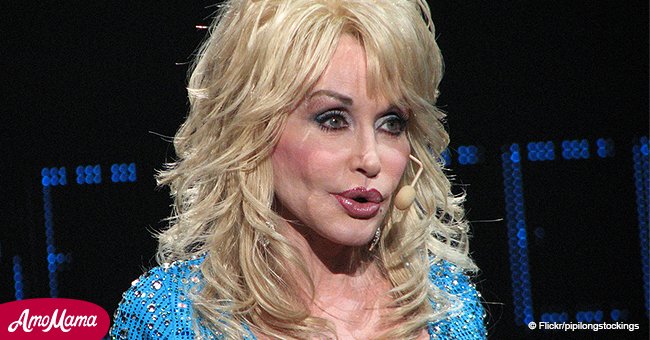 Dolly Parton discusses emotional affair that almost drove her to suicide

By the beginning of the 1980's Dolly Parton was apparently in the peak of a career that was expanding from the music business to the film industry, but in private, her health and her romantic life were bringing her down.
It would be difficult to find someone who hasn't heard of the 72-year-old country singer/songwriter and actress Dolly Parton. Besides her impressive and long-lasting career and her looks, she is the subject of many rumors and scandals.
With 100 million records worldwide and a career that spans at least five decades, Parton there is no surprise that she has earned the title of 'Queen of Country Music'. But even those who aren't fans of country music know about her public persona.
Parton has never been someone who minces her words and during her years as a celebrity, she has made many headlines with her reckless comments about her own life and her fellow artist friends.
As Daily Mail reported, even after all the secrets she has shared with the media over the years, she still had some things to reveal when she published a compilatory book in 2017, called Dolly on Dolly: Interviews and Encounters with Dolly Parton.
The book, edited by Randy L. Schmidt, comprises interviews from the beginnings of the 1960's when Parton's career took off and continuing into today. Apart from documenting her artistic evolution, it reveals part of her 'dark side.'
There is one particular episode in the book that stands out, revealing one of the lowest points on her life, when she actually felt tempted to take her own life, even if on the outside everything seemed to be shiny for the star.
It was in the early 1980's. Parton was having many personal problems when a broken heart caused by an 'unnamed lover' outside her marriage to Carl Dean nearly pushed the star under the edge.
She had gained fifty pounds from binge eating, as a way to deal with her emotions, but it ended up harming her self-confidence. Apart from that she was suffering from internal bleeding and required an operation.
Professionally, she was giving her first major steps in Hollywood, but she was having trouble to get along with her pushy male co-stars.
'Making that picture was a nightmare,' Parton said about her second film, The Best Little Whorehouse in Texas, on which she opposed Burt Reynolds.
But Parton got close to collapse when her romantic life intertwined with her work because clues point out that her 'affair of the heart', as she calls it, that almost claimed her life, was with her band leader Gregg Perry.
Apparently, it was an adventure that didn't come to a happy ending, and she was back in the arms of her husband for a difficult recovery. 'I cried an ocean. But I ain't gonna talk about it anymore. I've got to keep some mystery,' she said in the book.
The emotional distress that she underwent in the episode, made a very dark thought cross her mind one day, and she credits her dog with bringing her back to her to 'reality'.
'I was sitting upstairs in my bedroom one afternoon when I noticed in the nightstand drawer my gun that I keep for burglars. I looked at it a long time...' she recalls.
'Then, just as I picked it up, just to hold it and look at it for a moment, our little dog, Popeye, came running up the stairs. The tap-tap-tap of his paws jolted me back to reality I suddenly froze. I put the gun down,' added Parton.
'Then I prayed. I kinda believe Popeye was a spiritual messenger from God. I don't think I'd have done it, killed myself, but I can't say for sure,' the star continued.
'Now that I've gone through that terrible moment, I can certainly understand the possibilities even for someone solid like me if the pain gets bad enough,' she concluded. Read more on our Twitter account @amomama_usa
Please fill in your e-mail so we can share with you our top stories!