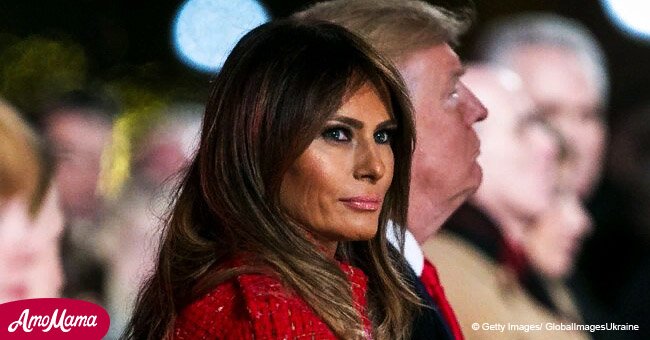 Melania faced severe backlash over recent statement on ways to 'positively impact children'
First Lady Melania Trump and President Trump welcomed King Felipe and Queen Letizia to the White House. But Melania's tweet about the visit has since sparked a debate.
Melania and Queen Letizia 'enjoyed tea and time together focusing on the ways we can positively impact children.'
However, following President Trump's zero-tolerance policy on immigration matters, thousands of undocumented migrant children were separated from their parents.
As reported by Huffington Post, the children were taken from the US-Mexico border and placed in 'shelters.' In some of these migrant camps, children were locked in cages, BBC reported.
Trump's administration responded to the media storm by releasing photos of the camps which showed brightly colored walls with neatly lined beds and a recreational room with a TV.
They said the children were well taken care of and that the 'cages' referred to in the media reports were instead 'chain-link partitions.'
However, it was still clear that in many of these facilities, thin mattresses were placed on concrete floors, with only space blankets to keep the children warm. Several netizens viewed Melania's tweet as offensive and insensitive.
Reporters attempt to gain access to these facilities were futile. U.S Senator for Maryland, Chris Van Hollen, visited one of the centers known as the 'dog kennel.'
He saw 'loads of kids massed together in large pens of chain-linked fence.' Van Hollen also tagged the President in the tweet, and said he should 'change [the] shameful policy today.'
Congressman Peter Welch also raised his concerns and after he visited a 'processing facility' known as the 'icebox,' and said it was 'nothing short of a prison.'
Charlotte Clymer pointed out Melania's hypocrisy by reminding her that 'babies are being held in prison camps away from their parents at [Melania's] husband's order.'
Erin Carr responded to Melania's tweet by asking if the 'positive impact' on children meant 'letting them out of cages.'
According to NY Times, President Trump has since signed an executive order to stop the separation of children from their families, and for the policy on zero-tolerance to be changed.
However, the plight of the children still imprisoned in migrant centers remains to be seen. To learn more, follow our official Twitter page, AmoMama USA.
Please fill in your e-mail so we can share with you our top stories!