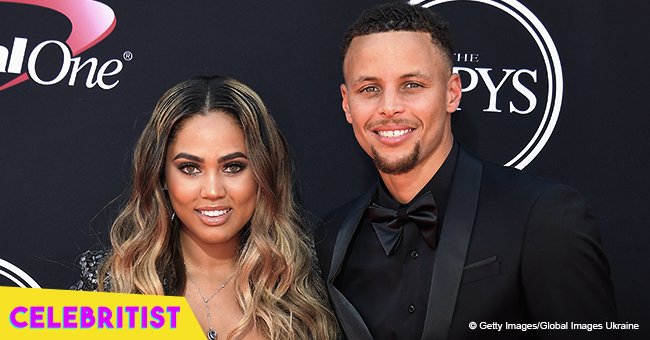 Ayesha Curry shares photo with daughters Ryan, and Riley with braided hair weeks before due date
The expectant mother of two shared a beautiful photo with her adorable daughters as she gets ready to welcome another baby into the family. Ayesha's third pregnancy has been hard, as she revealed a few months ago that she was suffering from Hyperemesis.
Ayesha Curry and husband Stephen Curry announced they were expecting their third child with an Instagram post last February. The chef and author posed with a t-shirt that reads "Preggers" as she looked down at her then small baby bump. Now, she's in her last month and ready to receive her baby at any moment.
The couple has not revealed the gender of their baby yet, and the whole family, especially their little girls, Ryan and Riley, seem to be pretty excited about finally knowing if they will have a little sister or brother.
The 28-years-old proud mom recently shared an adorable photo with the cute girls and Ryan, 5, is rocking her braided hair while hugging her mom and making a hilarious expression to the camera. Riley, 2, on the other hand, has her curly locks tied in a top knot as she stares intently to the camera with her gorgeous green eyes.
"My babies!!!!!!! 9 months! Can't believe our family dynamic is about to change forever. Who are we about to meet?! I want to know already!" Ayesha wrote in her Instagram caption.
A few months ago, the lifestyle guru opened up about her pregnancy on her co-founded lifestyle community Go Inspo, where she revealed the struggles she faced after being diagnosed with hyperemesis, the same condition that Princess Kate suffered during her first pregnancy.
"While I'm sure this could change any day now I really feel no different than I did in my first trimester. I still have nausea, can't sleep, pee every 5 seconds and am just so darn tired," she wrote, adding:
"I have what docs call Hyperemesis. This basically means nausea, incessant sickness and exhaustion probably won't go away. The only silver linings here are that my itty bitty baby is healthy and Princess Kate has suffered from the same condition during her pregnancies. Not feeling super royal though."
Despite the health struggles she suffered, Ayesha is looking radiant these days with that exclusive glow that pregnant women have.
She's been celebrating with her husband the victory of his NBA team, and also announced she will be hosting and producing a new cooking competition show for ABC after having her baby.
Please fill in your e-mail so we can share with you our top stories!