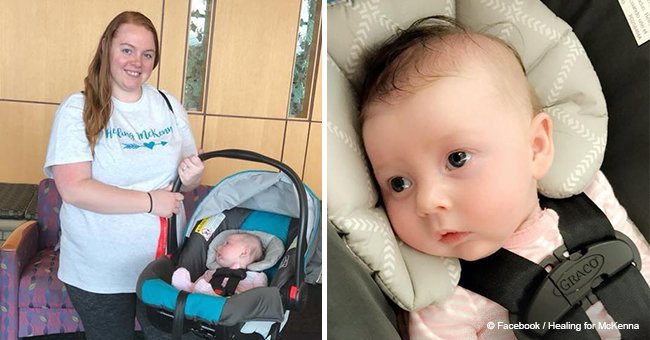 3-month-old baby back home 7 weeks after being severely injured by softball
McKenna Hovenga, who was injured by a softball, returned home after a seven-week stay at a hospital.
The little girl's parents took to Facebook to let everyone know that she returned to her home in Shell Rock, Iowa, on June 12, 2018.
Little McKenna Hovenga had been battling for life after a serious head injury she sustained at her father's softball game.
In May this year, she was hit with a ball when she was watching the game in her city.
According to the Facebook page Healing for McKenna, she left the hospital on June 12, about seven weeks after she was rushed for skull fractures and two brain bleeds.
The little girl is now recovering at home with her family. Earlier, her parents had written on Facebook that their daughter was '100% ready to go home' unless something unexpected happened.
The following day she returned home to celebrate her 'month-day.' The family posted the next day that she was recovering after spending a day that had 'its highs and its lows'
On May 2, McKenna was struck in the head by a softball when she was being breastfed by her mother, Kassy Hovenga. They were in the stands behind third base and the ball hit both of them.
The mother had a large lump on her bicep, where the ball had struck. She only realized that her daughter was hit when she started crying seconds later.
She was rushed to an area hospital and was later airlifted to the Mayo Clinic in Rochester, Minnesota. According to the family's website, she spent 40 days in the hospital.
McKenna had several seizures a day during her stay at the hospital with some lasting an hour. They were caused by the pressure of the blood clots and the swelling of her brain.
The seizures stopped in the first week of June, although she had two more after several days of being seizure-free.
The family also set up a YouCaring page to help receive donations.
The softball game the mother and the daughter attended was McKenna's first outing, excluding trips to the grocery store or to doctor's appointment, said the Facebook page.
Read more on our Twitter account @amomama_usa.
Please fill in your e-mail so we can share with you our top stories!