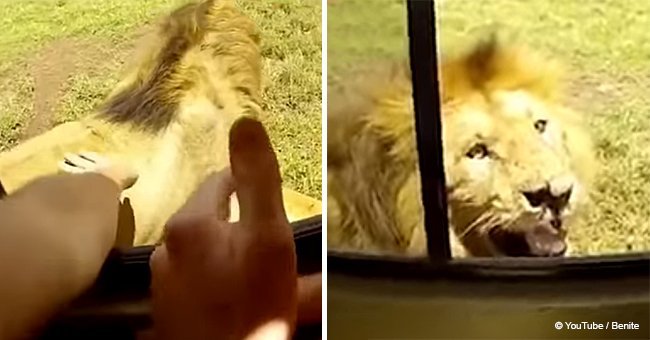 Foolhardy tourist tried to stroke a wild lion from her car and it almost led to tragedy
A tourist was caught trying to pet a wild lion on video and almost lost his arm when the predator made his annoyance known.
The video of a tourist on a safari in Tanzania went viral on YouTube and received almost 650,000 views after the man almost lost his arm to a wild lion.
The video was posted on June 15 and showed a wild lion and a few lionesses lying around in the shade of the Safari vehicle at Serengeti National Park in Tanzania. The wild animals are known to do this frequently.
The authorities at the Park explained that they do so to lie in the shade, not to interact with humans. The video showed a man's arm reaching out of an open window, towards the lion standing at an arm's length
Source: Freepik
The reckless man then patted the lion and retracted his arm immediately. He sounded rather pleased with himself in the video.
Within seconds of doing so, the lion turned around baring his teeth and gave out a mighty roar. The other tourists screamed and asked for the window to be shut. The man managed to quickly close the window without getting hurt.
In an interview, South African safari ranger Naas Smit exclaimed that the entire group should consider themselves extremely lucky.
Source: Freepik
He added that the lion could have just as easily ripped the meddling man's limb off or could have pulled his body out through the window and killed him instantly.
The lion could have also jumped into the vehicle. The ranger revealed that if the lion had killed one of the tourists, the park rangers would have been forced to kill the animal.
He added that the consequences would have been more severe if the lion was the pride male.
Park rangers expressed their distress as similar videos of humans being reckless and being attacked or mauled by predators that have been doing rounds on the internet.
Read more wildlife stories on our Twitter account @amomama_usa.
Please fill in your e-mail so we can share with you our top stories!