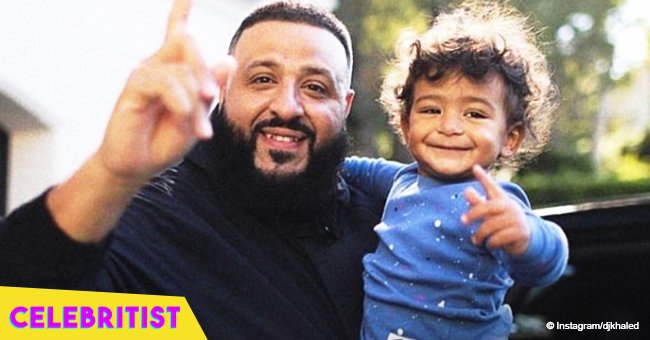 DJ Khaled's 1-year-old son flaunts $100k Rolex watch while 'working'
Hip-Hop producer DJ Khaled gifted his 1-year-old son with a luxurious $100,000 designer watch for his birthday. This comes after news emerged that his son actually helped produce his latest album as an executive producer.
Despite his son Asahd Khaled being just 14 months old, he is already earning his own money thanks to his father making him an executive producer of his latest album "Grateful". According to Khaled, his son was named an executive producer of his new album, and he has been providing input regarding his dad's songs. Khaled believes that his son's subtle gestures and expressions at the studio are signs of whether or not the song is a good one. The doting father even goes so far as to say that when his son does a head bop and smiles, it means he has a smash hit on his hands.
With all the money the father-and-son duo has been getting through their music, the toddler has been seen decked out in Gucci suits, Jordan sneakers, and his extremely expensive watch. He has also been receiving some lavish gifts from people his dad has been working with, including matching, interlocked diamond keys from the Canadian rapper Drake.
Asahd is definitely living a more lavish life than most babies his age, and Khalid is making sure that his son experiences all the best in life. Aside from Asahd's $100,000 watch, his dad also rented out a Miami club to throw him his first birthday party. The rose gold piece is doused in 11.5 carats of sparkling diamonds, and his name and birth-date is engraved on the back of the watch.
The Miami-based birthday party was jungle themed, and his dad's friend Diddy hosted the celebration. Of course, the venue was drapped in nothing less but a gold throne, animal designs, costumes, monkeys, and even a tiger cub.
Please fill in your e-mail so we can share with you our top stories!