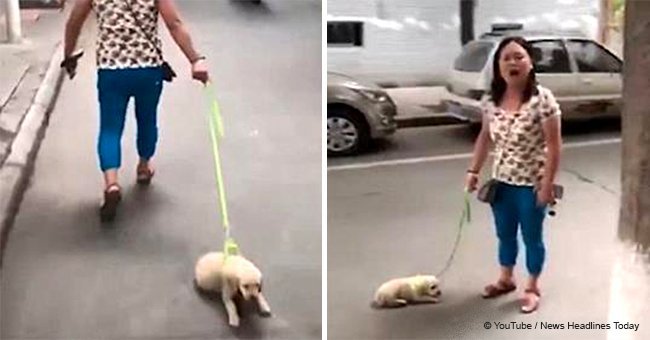 Woman seen lifting puppy by the leash in mid-air and dragging it on road
A woman was spotted and filmed flinging and dragging a small pooch using the harness on the street in Southwest China. A witness recorded the full incident.
As reported by Daily Mail, a passerby spotted a woman coercing her puppy on the streets of Sichuan province. The woman was seen flinging and dragging her little dog on a quiet street in a forced effort to make the puppy walk.
When confronted by the passerby, the woman repeatedly asked her to "mind her business, " when caught on camera. The witness asked the woman to stop but met with a disgruntled "why do you care" and "it's my business."
The woman was seen urging her puppy to walk as it curled on the road. When she sensed the reluctance from the dog, she swung the dog mid-air by its harness and dragged it along before repeating the action
Source: Freepik
The witness was seen telling the woman to stop, or she would report her to the officials for animal abuse. Unfettered by the scare, the woman kept walking and asked the witness to mind her own business.
The woman didn't even give her pet a chance to land his feet on the ground before hurtling it forward again and dragging it behind her, because it wouldn't walk.
According to the report, the witness followed the woman and forced to sell the puppy to her. She then took the puppy to a veterinarian to check if the puppy had sustained any injuries.
Source: Freepik
The doctor confirmed that he found no injuries and the routine checks were all normal. The original owner of the dog was not identified, and it is unclear if charges were filed against her.
The rescuer expressed relief about being able to rescue the little dog from what may have been an abusive relationship. Read more stories about pets on our Twitter account @amomama_usa.
Please fill in your e-mail so we can share with you our top stories!