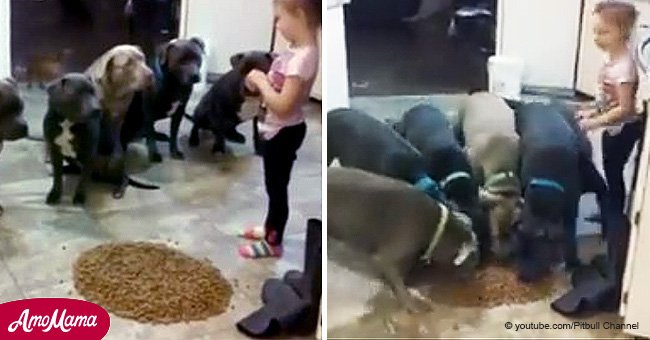 Video of 4-year-old feeding pit bulls sparks controversy among public
Six pit bulls wait patiently for a four-year-old girl to signal lunch time in a video that went viral but sparked controversy online.
The viral video, of a little girl 'controlling' the six dogs, was uploaded to YouTube on January 10, 2015.
Pit bulls are often thought to be dangerous and aggressive, which has led many people to misunderstand and fear the breed.
To debunk this stigma, Nina Wahl shared a video of her niece, four-year-old Taysley Rose, handling six hungry pit bulls like a trained professional, reported NTD.
The woman capturing the action says "feeding time" as the six dogs surround the little girl.
Rose orders all of them to "sit," clapping her hands. One by one, all the dogs duly comply. She asks them to stay there while she gets their food ready.
Two of them need to be told a couple of times more to be seated before they can eat. They wait patiently when she orders them to "please sit."
The girl pours out two buckets of kibble into a mound on the floor. She then counts to three, before telling the dogs "Okay." All of them eat their meal quietly.
All the six are disciplined and are able to resist rushing in for the food, despite the tempting fragrance.
"Six male pit bulls. People say it can never be done. They live and eat together. They're a family," the woman behind the camera says.
She continues saying that the four-year-old is able to give orders to the dogs and they follow her. She signs off saying, "And love your pit bull."
According to ABC6, the video was first posted on Facebook. It created controversy with some viewers saying the girl was in real danger given the unpredictable behavior of pit bulls.
Pam B, a Facebook user, said it was "dangerous" as one wrong look could end up in a bloodbath.
Gordon Shell, whose work of rescuing pit bulls was recorded in the documentary, The Dog Fighter, said that though the video was 'awesome' including the little girl and the dogs, the huge risks 'involved for the breed' was not impressive.
Quite a few others said that even a child could tame the breed through obedience training.
Read more on our Twitter account @amomama_usa.
Please fill in your e-mail so we can share with you our top stories!