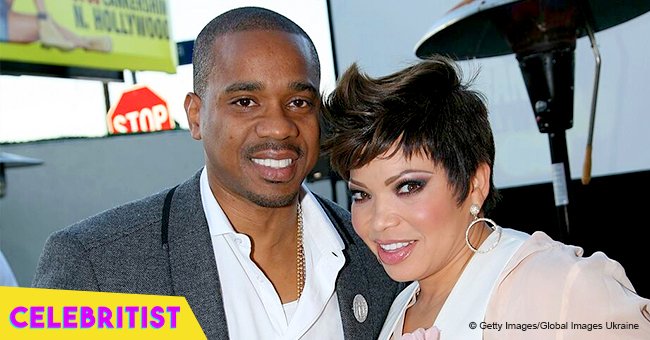 Tisha Campbell-Martin's husband shares video of their son working out amid divorce drama
Duane Martin has chosen to focus on his son's workout progress in his latest post while his ex-wife battles him in court for allegedly hiding money from her.
In the midst of the drama surrounding his divorce from Tisha Campbell-Martin, Duane Martin is taking time out to post a video of their son Xen working out.
The 16-year-old appeared to be seriously working on his body in the clip his father showcased on Instagram. Dressed in red workout gear, the young man performed a series of lateral arm raises as he held on to dumbbells and his trainer stood by. His father circled around him documenting his progress. Xen's face registered pain but he kept on his routine revealing his beefed up chest in the process. His father egged him on in his caption.
"XEN gettin it in!!! Bring em out Bring em out! Man screnth!"
Xen's fitness video comes in the heels of the latest drama unfolding between his parents who announced their divorce in February. According to TMZ, the "My Wife & Kids' actress has just filed legal documents accusing the 'All of Us' star of hiding his money from her and misappropriating funds during their 20-year-marriage.
Just a few days after Valentine's Day, Trisha released a statement announcing her intention to file for divorce from Duane who she'd been separated from since December 24, 2016.
"After 27 years of being together and two amazing children, it pains me to announce that I've filed for divorce. It's an emotional time and I graciously ask for privacy for me, our children and the rest of our family."
Source: Getty Images / Global Images of Ukraine
The 49-year-old reportedly cited irreconcilable differences as the reason for her filing and requested joint and physical custody of their children. She also requested Duane to pay her spousal support.
Today, Trisha is once again taking legal action as she insists Duane is hiding money from her though the exact amount remains a mystery.
Duane and Trisha share two sons together, Xen and Ezekiel, 8. They were married in August 1996 and were believed to have a shot at forever. Now it seems that ship is sailing and there's no turning it back.
Please fill in your e-mail so we can share with you our top stories!