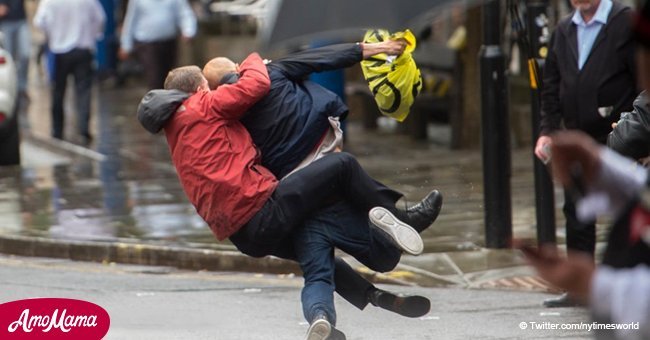 The daring moment thief is rugby-tackled to the ground
Members of the public interfere with an ongoing robbery and help to bring the man to justice.
A 43-year-old Manchester man was tackled to the ground by another businessman, who was out for his lunch, on suspicion of theft.
According to Telegraph, the incident occurred in Manchester city center after a man allegedly ran off with around $200 dollars of a woman while she was withdrawing money.
The man put up a fierce struggle but he was held against the ground by several members of the public who came to the businessman's help.
Police officers were called to the scene, who then arrived and arrested the man at the scene. He was later questioned on suspicion of theft. The victim was also returned her stolen amount of cash.
The online source quoted a witness of the event as saying, "I was just walking down the street when all hell suddenly broke loose. One guy was running full pelt whilst others were running behind him shouting: 'Stop thief.'"
It was then that the man was tackled to the ground and pinned down by other members of the public. Other confused onlookers were even found talking about the man's human rights without knowing the entire context of the events.
Police authorities of Greater Manchester area later issued a statement announcing, "Shortly before 1.30pm today police were called to reports of a theft on Market Street in the city center."
The authorities also informed that the woman was robbed while she was withdrawing the cash. The robber had managed to make a run until the members of the public interfered.
The full circumstances of the incident were still being investigated by the law enforcement authorities and they have asked anyone with any kind information to contact them.
Please fill in your e-mail so we can share with you our top stories!