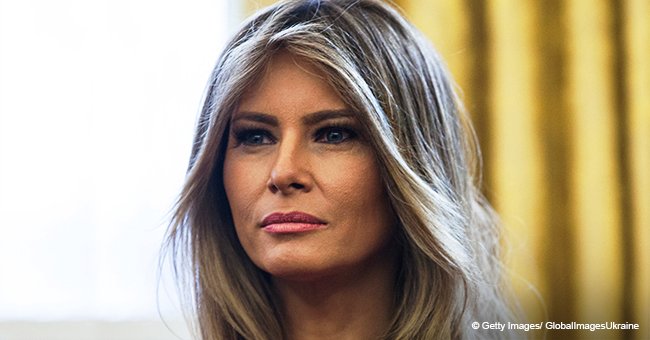 Melania Trump tweets for the first time since jacket scandal
The First Lady of the United States took to social media after visiting detention centers where migrant children have been separated from their parents.
She said on Twitter that visiting a shelter in Texas was 'very touching,' and added that the children were kind and in good spirits 'despite the difficult circumstances.'
Her 'sincere hope' is that Congress 'will be able to reach across the aisle & find a solution.' This follows after she was seen wearing a controversial jacket while traveling to Texas.
Melania wore a Zara jacket, one popular among fashion and lifestyle bloggers, with the slogan 'I really don't care, do u?' written across the back.
Her fashion choice made headlines and people took to social media to point out that Melania's jacket was tone deaf, as well as insensitive, offensive and not fitting the occasion
President Trump defended his wife and said her jacket 'refers to Fake News Media.' He explained that 'Melania has learned how dishonest they are, and she truly no longer cares.'
Melania's communications director, Stephanie Grisham, contradicted President Trump's message by saying in a statement that it's just a jacket and there were no 'hidden messages.'
In light of Melania's tweet hoping Congress would find a solution, netizens on Twitter were quick to point out that she is missing the point.
Adam Quinton said the problem was created by her husband, 'who has then just engineered a photo op,' without a viable solution.
When Melania's supporters said in the comment section that her jacket referred to the media, and not the immigration crisis, Kristen Mackey said 'it's still inappropriate and unacceptable.'
Shawn B. Riley said her jacket was 'an inappropriate joke,' while Paula Guajardo said a 'visit to children traumatized in cages and separated from their parents' was the wrong time to be wearing that jacket.
Trump has since signed an executive order to reverse the zero-tolerance immigration policy, but the fate of the children already separated from the parents remain unclear. To learn more, follow us on Twitter, at AmoMama USA.
Please fill in your e-mail so we can share with you our top stories!