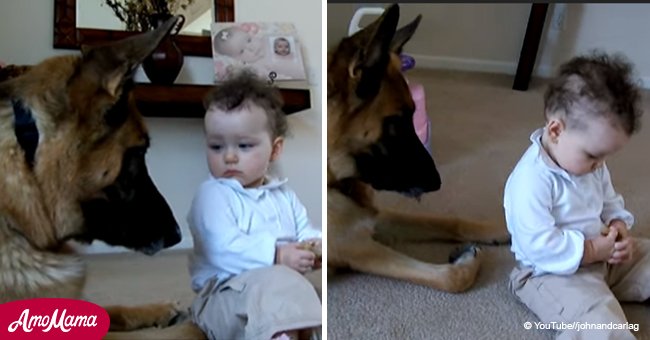 Here's how a great big German Shepherd reacts when a toddler steals his treat (video)
Brano is a huge German shepherd who loves his family, including baby Ava. The video captures his reaction when the little one takes away his treat.
The video was uploaded on YouTube by a channel named Johnandcarlag on October 29, 2007.
When baby Ava and Brano the Dog are in the same frame, the video is just adorable. The little girl and her furry friend seem to like the time they spend together, playing and enjoying each other's company.
However, there are also times when the two cross paths. Ava's father recorded a moment when she stole his food and refused to give it back.
Her father tries to distract her but with no success. The dog, tired of waiting around, sits down beside her.
The little girl showed how the boss was by making it clear that no one was going to have any treat.
The video begins with father giving the German shepherd a treat. Brano is ecstatic and happily munching his food when the tiny hand of Ava grasps the gift and pulls it away.
Brano, who is distracted by some of the pieces on the floor, does not realize that the toddler has taken away his treat. He notices that his large part of his bone is missing.
He looks at the toddler who looks back innocently. The dog tries to get the treat from her hand but is pushed away.
He decides to pursue the matter further as the father settles beside the girl. He tells Brano to take the treat back while he is talking with his daughter. The smart girl realizes it and takes the dog's food away from his mouth.
Brano is only able to lick her hand while she clutches the treat in the other hand. The dog seems to plead to get his gift back, but the girl is stubborn.
He finally gives up any hope of getting it back; he sits by her side waiting patiently for her to give it back herself.
However, another German shepherd, Loki, seems to be lucky. In a video shared on Instagram by a user, loki_the_shep. The dog is with a girl who has her breakfast in her bowl.
It is certainly not something she enjoys. Hence, she decides to give away all her food to her dog who is more than happy to eat it. In fact, the little girl is excited the dog is enjoying her breakfast.
Read more on our Twitter account @amomama_usa.
Please fill in your e-mail so we can share with you our top stories!