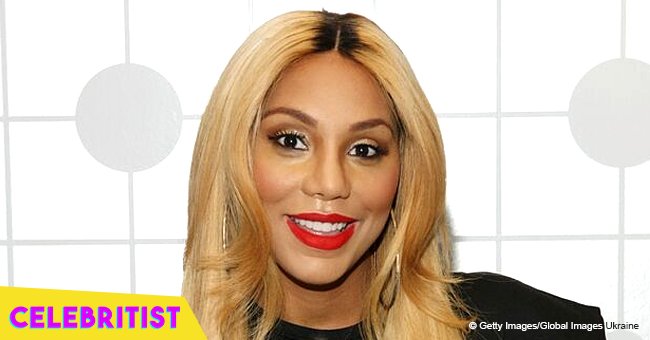 Tamar Braxton reunited with her estranged husband as the family celebrated the birthday of her son
The singer recently reunited with her estranged husband, Vince Herbert, to celebrate their only son's birthday at Disneyland. The rest of the Braxton family joined the couple, and they all were in high spirits despite the drama surrounding them.
Tamar Braxton surprised fans when she revealed photos of her trip to the happiest place on earth that included her soon-to-be-ex-husband and former manager, Vince Herbert. The couple is in the middle of a divorce, but they seem to have moved on from the pettiness and drama to co-parent their son in peace.
They were married for almost nine years, but after allegations of cheating on Vince's side, and the deterioration of their relationship after spending so much time together in their personal and professional lives, Tamar decided that getting a divorce was the best for them.
Late last year the singer created controversy by sharing some hateful messages dedicated to Herbert, and there was even an incident at their home where police had to intervene. However, Tamar and Vince were able to set the record straight about their relationship on a visit to "The View" earlier this year.
While confirming they were getting a divorce, Tamar also explained the cheating allegations had turned out to be fake, so despite going their separate ways, the former couple is maintaining a friendly relationship for the sake of their son.
Logan Vincent just celebrated his 5th birthday, and Tamar made sure to give the boy an unforgettable celebration as she organized a week-long get-away to Disneyland in the company of her sisters, parents and estranged husband.
The whole family, except Traci Braxton who had other compromises, stayed at the park's resort and enjoyed a week filled with rides, Disney's characters, food, entertainment and most importantly, each other's company.
Fans were shocked to see that Tamar's mother, Evelyn, and some of her sisters were okay with hanging out with Vince Herbert considering they were very vocal about Tamar's and Vince's divorce. The Braxton girls accused the man of domestic violence and made him seem like a villain in front of the cameras of their reality show "Braxton Family Values."
However, it seems like Tamar made some amends between all of them, including her father, Michael, who until last year had a pretty rough relationship with all of his daughters. The man cheated on Evelyn and ended up getting married to his mistress, something that the Braxton sisters considered a betrayal.
Logan's birthday was the perfect excuse to reunite the entire family and put a stop to the drama surrounding them, and Tamar was proud of getting them all together to celebrate her adorable son. In one of the photos of the family posing alongside Minnie Mouse, she wrote:
"Nobody wins when the family feuds. Thanks so much @waltdisneyworld it's truly one the #bestdaysofmylife to be able to spend a week here with my family for Logan's bday. I'm so grateful."
And in another family portrait, she thanked Disney for allowing her to get the Braxton family united, writing:
"I'm so grateful for @waltdisneyworld you never know what you TRULY need until God provides it!! I thought this was just my baby's 5th bday!! Its been God at work. #bestdayever #familyfirst #disneyworld #themagicofdisney."
Fans expressed how happy they are to see Tamar and Vince working out to give their son a happy life, leaving comments like:
"libbyorleans: So Happy to see you and Vince are putting your differences aside for Logan."
"lyndeeinaustin: So HAPPY to see you & Logan with YOUR FAMILY. I feel like a huge void has been filled. Happy birthday, big man! Where has the time gone?"
"charlottejones5866: I love seeing you all together because Family is everything. Happy Birthday, Logan!"
"apollosevin: Whatever you and Vince been through I'm so so glad to see him in a picture with the Braxton fam again. Nothing but LOVE and the grace of GOD in this picture."
Tamar also showed some love to Vince and her father, Michael, on Father's Day. She shared an adorable picture taken on Logan's birthday that shows the boy smiling brightly on his father's lap while his grandfather poses next to them
We're glad to see Tamar and the rest of her family put their differences aside to give Logan beautiful memories. Hopefully, they'll keep on working to fix the family's internal issues.
Please fill in your e-mail so we can share with you our top stories!