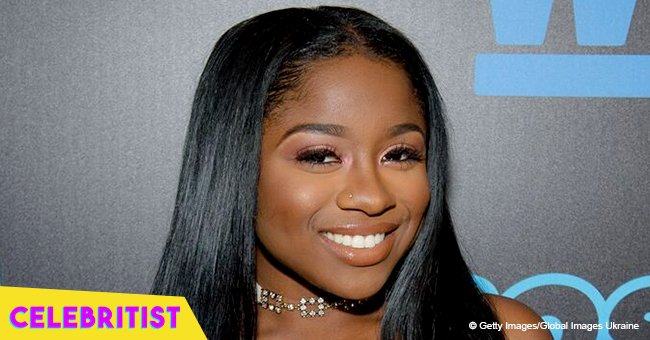 Reginae Carter flaunts curves in glittery mini dress in recent picture with much older boyfriend
Reginae showcases her assets in a recent outing with her boyfriend amid rumors of trouble in their relationship and after she clapped back at her critics.
Reginae Carter is fashioning a slimmer figure, and she proudly flaunted it attending the BET Awards on Sunday. The 19-year-old daughter of Lil' Wayne was all smiles as she posed solo showcasing her printed orange two-piece outfit that revealed a portion of her abs through its cropped top. The glittery number that fell high up her thighs also featured her shapely legs which appeared longer with her strappy sandals.
Joined by her much older boyfriend YFN Lucci at the awards event, Reginae shut down rumors of trouble in their relationship as she posed hand in hand with the 27-year-old in another photo that surfaced on Instagram. The controversial pair had their arms around each other as Lucci held on to a tub of popcorn, apparently showing no vibes of a problem.
Just a few days earlier, news spread that the couple was on the rocks after Lucci attended a house party with strippers. But that rumor has been thrown out of the window after their latest sighting appearing all loved up.
It isn't the first time Reginae's relationship with her boyfriend made the news. In fact, she received a ton of backlash recently for forging a relationship with a much older man. Fans slammed the star and expressed their concern over her big age gap with Lucci.
"Hold on YFN Lucci and Reginae????? That man is pushing 30 and he's sexing a young babe? And Lil Wayne hasn't killed him yet? What a wow."
"Aye @YFNLUCCI on his R. Kelly s— #PaptingAFool."
"YFN Lucci a whole ass weirdo and if u don't see anything wrong with that u probably a predator too."
But that's not all. Fans also accused the young celebrity of promoting unhealthy habits when she posted a photo ingesting an appetite suppressing lollipop she'd been using to lose weight.
"Not you too. Honestly expect better from you. Appetite suppressant lollipops create a culture where we think it's okay to starve ourselves and I refuse to promote or support that."
"Stop scamming sis! A damn lollipop don't make your tummy flat."
Irked by all the negative attention coming her way, Reginae decided to fight back and speak her mind during an Instagram Live feed.
"The haters, you're whack. My mama probably gon' be mad at me — a lot of people gon' be mad at me for doin' this but I'm a speak my mind 'cause that's one thing I always do. I speak my mind. And y'all whack."
Nobody is going to rain on Reginae's parade, that much is clear. And as long as she's happy with her body and her boyfriend, it's bound to stay that way.
Please fill in your e-mail so we can share with you our top stories!