Firemen rescue tiny creature from inside concrete slab after it became trapped
The tiny cat got stuck in the concrete slab. The firemen then came to rescue it.
The video shows the feline being rescued by firemen after getting stuck inside a concrete slab in Karaganda, Kazakhstan last April.
The firefighters immediately sprang into action when the residents phoned them about the distressing situation of a poor four-legged creature.
The cat was seen waiting for anyone to stop and help it out. It was struggling to breathe after being crushed by the small passage it had lodged itself in.
According to spectators, the tiny creature had crawled into the hole on a building site.
Follow us on Twitter @amomama_usa.
Unfortunately, as the cat made its way down the narrowing tunnel, it became stuck. The cat could not continue and found itself fixed in place.
Luckily, a resident noticed it from inside the slab. He immediately called the rescue services.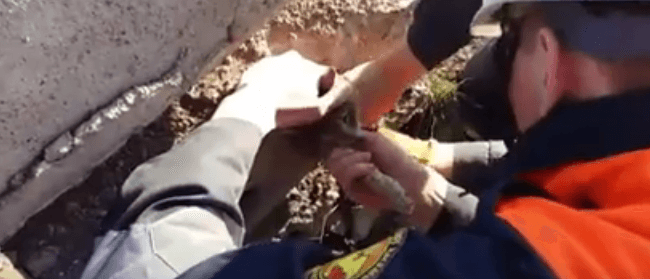 When the firefighters arrived on the scene, they carefully enlarge the hole. It took them one hour to finally pulled the cat free.
"When our rescuers arrived there was just the cat's muzzle sticking out of the concrete slab," said Andrey Friedovsky, the head of the regional rescue service, Daily Mail reported.
Friedovsky explained that the passage was more extensive at one end of the slab. That was the reason why the cat had no difficulty getting in, but the poor animal found it hard to get out.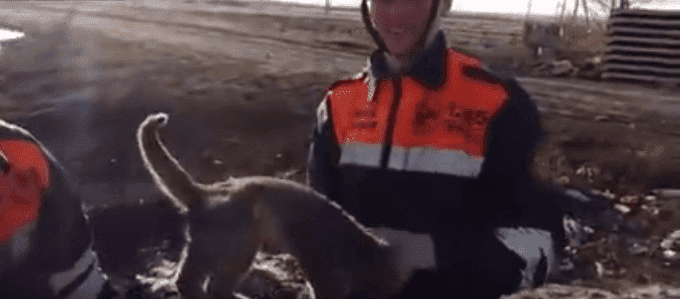 He added: "The slab is long and the cat got stuck in the place where the tunnel narrows down."
"We got it out and recommended the cat not to do it again. It promised us it would not do so!" Friedovsky joked.
According to him, the cat seemed like a family pet as opposed to a stray.
The video of the rescue was published on YouTube, where many animal lovers shared their thoughts via comments.
YouTube user Samantha Chapman wrote: "You fellas deserve a night of free drinks for doing saving that kitty there are alot of horrible scumbags out there that wouldnt of helped it , its nice to know that there are alot of decent men out there still. Great job [sic] ."
"This cat is legendary, it should have it's own holiday [sic]," commented Tommy Gunn.