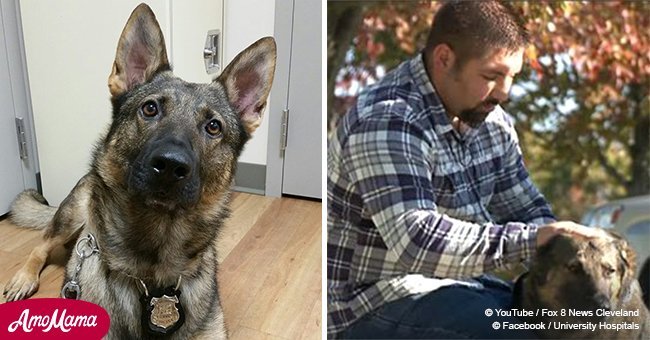 K9 dog diagnosed with neurological disorder but police officer partner tries to save him anyway
Officer Matt Suster could not give up his partner, General, after he was diagnosed with Lumbosacral Stenosis, which made him unfit for work.
Fox 8 reported that the University Hospitals officer of Cleveland, Ohio, started a GoFundMe page to help his partner.
Officer Suster was not prepared to turn his back on his K9 partner who faced a major health scare.
The two began working together in 2015. However, two years after being a team, their partnership was set to be broken. Suster was told that General could not work again.
The dog was diagnosed with a neurological disorder, Lumbosacral Stenosis. It was after Suster noticed that his faithful companion was not acting right.
When he asked General to sit, he just could not. Suster found it unusual because the dog always did what he was told.
The two went into their car, and when the dog jumped in, he cried in pain. The officer knew something was wrong; his partner was hurt.
He took the K9 to a veterinarian and then to get an MRI scan. General was diagnosed with the disorder which caused the nerves in his back to be pinched and cause pain.
Doctors said that the dog was fine as a house pet but could no longer work.
"I was devastated. That was probably the worst feeling I ever felt. There is nothing like the possibility of losing your partner."
Officer Matt Suster, Fox 8, October 20, 2017.
Suster faced a predicament – he could either return General so the department could get a replacement or spend $5,000 out of his pocket to keep him.
He could not give up General. He said it was like giving up on one's children. It was not an option.
He went online and started a GoFundMe account in order to raise the money for his partner's treatment. He explained that the dog had become part of his family. The bond he had formed with his partner was strong, and he could not let him go.
With generous donations from the public, he soon had enough cash to keep General. 213 people had helped him out with $7,460 in just 26 days.
He now had a surplus, which he used to help other retired K9s in a similar situation.
The most important thing for Officer Suster was to make sure his best friend stayed with him.
Read more on our Twitter account @amomama_usa.
Please fill in your e-mail so we can share with you our top stories!