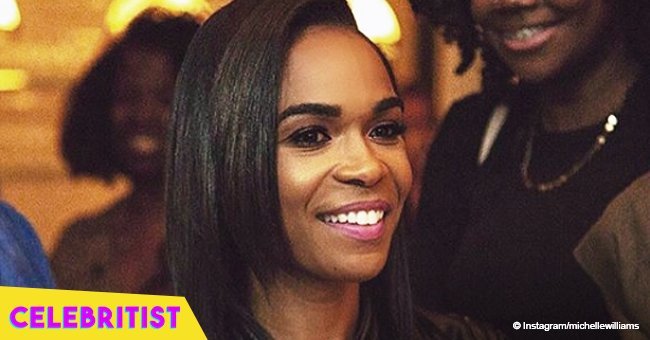 Michelle Williams snatches hearts in photo while fiancé carries her on his back
Michelle Williams shares adorable photo of her fiancee carrying her on his back after announcing their engagement on social media.
Former Destiny's Child member Michelle is officially engaged to her boyfriend Chad Johnson after a year of dating, and they have been sharing adorable photos together to make their engagement known to the public. One of their most recent photographs include a pre-nuptual photo of Chad carrying Michelle on his back while she showed off her ring. The proud husband-to-be posted the sweet snap on his Instagram to show off to their fans.
After meeting at a spiritual retreat in March 2017, Michelle and Chad kept in touch even after the event. The two of them built a strong relationship through constant conversations on Instagram, through text messages, and FaceTime calls. After four months of getting to know each other, they announced their romance to their fans and followers, much to their delight.
Eight months into their relationship, the love they felt for one another was so real and so intense, that on March 21, Johnson got down on one knee and proposed to the beautiful songstress with a gorgeous 5-carat engagement ring. Now that they have been preparing their dream wedding, nothing can stop them from being the happy couple they ought to be when they get married.
While everyone might know a lot about Williams, her lover Chad seems to be a mystery to quite a lot of people. Through an exclusive interview with People, Michelle's future husband shared a bit about his life for the singer's fans. A true man of God, he found a passion for scriptures when he was 17-years-old after attening a Fellowship of Christian Athletes Camp. Since then, he went on to get a Bachelor's Degree in Christian Ministries from Arizona Christian University in Phoenix.
After graduating from university, he worked as a pro-sports chaplain, leading athletes from the Arizona Cardinals, Pittsburgh Steelers, and the LA Dodgers, and their families, in daily devotionals.
Since 2006, he has been leading Elevate International, a non-profit organization that serves urban youth and families with spiritual retreats, and it was during one of the retreats that he met Williams.
According to Michelle, the retreat was something that really changed her life.
"I was in a horrible, dark place. I just needed to go somewhere I could get a message of hope and restoration, rejuvenation - get connected to God."
It seems the two are a match-made in heaven, especially since both of them have neither been married in the past, and neither of them have children as well. While they met in a later point in their lives, the two believe that this is exactly where God has led them to be.
Please fill in your e-mail so we can share with you our top stories!