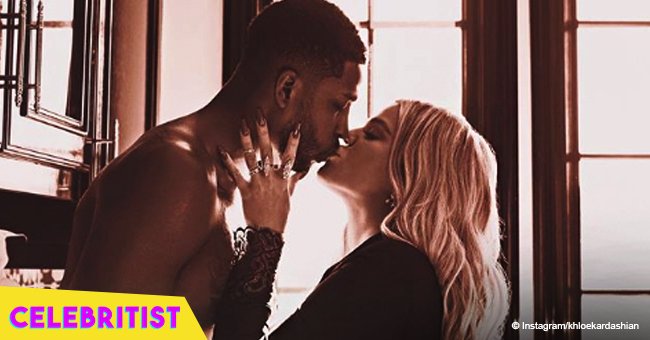 Khloé Kardashian finally speaks out on 'co-existing' with Tristan Thompson after cheating scandal
The reality star has been quiet about her baby's daddy cheating scandal since it hit the spotlight, but now she finally addressed the situation after a disappointed fan called her a hypocrite on Twitter.
Khloé Kardashian has been enjoying motherhood since April, when she welcomed her first daughter, True Thompson, with NBA player Tristan Thompson. However, Khloé's childbirth wasn't that joyful because two days earlier, videos and photos of her boyfriend cheating on her hit the internet.
Despite the evidence, the reality star choose to move on with Tristan, and after a few tense months where fans didn't know if the couple was together or not, Khloé left her actions to speak for her as she attended Tristan's games and went on several dates with him while looking as in love as ever.
Some of the Kardashians' most loyal fans expressed their anger at the way Tristan treated Khloé, and some of them even attended his games with signs in support to the reality star, booing the player everytime he took the ball. Khloé remained mute about the whole situation, until now.
On Monday, the 33-years-old couldn't resist replying to a fan who called her a hypocrite on Twitter. The angered fan, who goes under the username Queen Persia, expressed her disappointment on Khloé being such a brave woman but choosing to stay with a man that made her look like a fool, as she wrote:
"I love, adore & root for @khloekardashian but I'm so disappointed she stayed with that wasteman Tristan. she preaches about women knowing their self-worth and when to walk away but when it's time to walk the walk, she's a hypocrite."
Answering to the fan, Khloé stated that we don't know what goes on behind closed doors, suggesting that forgiving Tristan has been harder for her than it looks, saying:
"Not exactly Queen Persia, you have no knowledge of what goes on in our household or the enormous rebuilding this takes to even coexist. I'm proud of my strength. I appreciate your opinion, and I hope you hold that same opinion to everyone else who has stayed in situations."
After Khloé's reply, the fan apologized and made Khloé know that she was not trying to judge, but since the Kardashian is a role model for millions, is only natural for her fans to be worried about her. To this, True's mom replied: "I love you for that and girl trust me don't I understand!!! I appreciate you, I do!!"
Just a few days ago, a news publication shared photos of Khloé and Tristan in a date with other friends, and the star looked tired and absent, so people started to speculate about their relationship taking a wrong turn once again. But she was quick to clear up the rumors by calling out the publication and stating that, as a new mom, is only natural for her to be tired.
"My little mama goes to bed at 8. So I have a few hours to enjoy 'being an adult,' but truthfully I would rather just stay home with her. But I tried last night lol," she wrote.
Please fill in your e-mail so we can share with you our top stories!