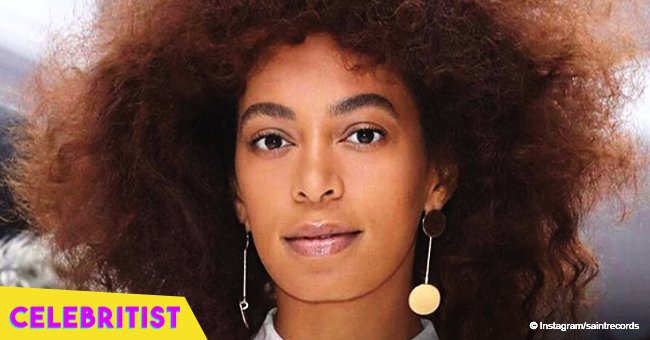 Solange shared photo of teen son smiling during facetime conversation with his mom
Solange Knowles' teenage son is all grown up now, and he has an incredible relationship with the singer. Even though his parents are divorced, Daniel looks like a happy young man in a recent photo his mother shared of him.
Daniel Jules Smith Jr. was born from Solange Knowles marriage to her high school sweetheart Daniel Smith when they were still teenagers. The singer gave birth to her only son at 18-years-old, eight months after tying the knot. She has called the boy an "unplanned blessing," and despite becoming a mother at such an early age, has stated it was a rewarding experience.
"I have been so blessed, number one, that my son is the coolest kid ever. Of course, that first year of "nonsleeping" and just being dedicated to him had tough parts. But as far as motherhood goes, it's been a blast for me," she told Sister 2 Sister a few years ago.
Sadly, her first marriage didn't last long, and in 2006, she divorced Daniel, just when their kid was two-years-old. But Solange and her baby's daddy have a good relationship. Even to this day, the teenage boy goes to his mom's shows with his dad, and they have an incredible support system.
In 2014, Solange married to music video director Alan Ferguson, and she seems to have finally found love in the man. Her son is supportive of the relationship, and he looked as happy as his mom on her unique wedding day.
The youngest of the Knowles sisters recently shared a screen capture from a facetime conversation with his son on Instagram, and even though she didn't caption the pic with a heartfelt message, the sole fact that she decided to share that moment with fans tells us it was a special one.
In the photo, Daniel is looking fondly and smiling at his mom while resting his face on his hand. The boy is the perfect mix of his parents, and at his age, he already has a myriad of young girls going crazy over him.
One of his fan pages on Instagram keeps the world update on Daniel's rendezvous, posting photos and videos from his Snapchat that keep on earning him more fans.
We're glad to know that Solange has such a beautiful relationship with his son, he's growing up to become a handsome young man.
Please fill in your e-mail so we can share with you our top stories!