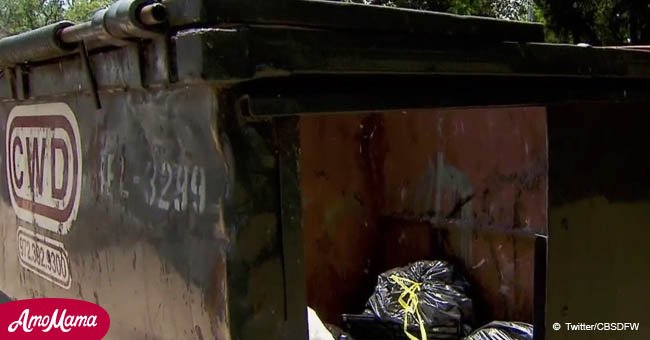 Newborn found discarded like trash near dumpster in Texas
A newborn baby was found discarded but still alive in a dumpster outside an apartment building in Dallas, despite the state's Safe Haven Laws.
As reported by CBS Local, the person who discovered the baby was taking out the trash late Saturday evening when she heard crying. The umbilical cord still attached.
She rescued the infant and waiting for her husband to return from work. The couple, who is new to the town, took the baby to the Texas Health emergency room.
This is the second baby discovered alive in North Texas this month after being abandoned. To learn more, don't forget to follow our official Twitter page, at AmoMama USA.
"Sadness aside, advocates say this is calling on the entire community to work harder, to let mothers under challenging situations know that there are safe, legal options."
Robbie Owens (CBS reporter,) CBS Local, June 25, 2018.
Advocate Patsy Summey wishes more women could be reached and said she sympathized with the unknown mother, despite the cruel act she committed.
The umbilical cord still attached "means most likely the baby was delivered without assistance and the amount of pain and terror that person has gone through is just unbelievable," she explained.
Safe Baby Sites have been created for mothers at their wits' end to hand babies over legally. The law works, but unfortunately, many mothers are still unaware of their options.
According to the state's laws implemented in 19 years ago, mothers have the opportunity to voluntarily surrender a baby younger than 60 days at facilities such as hospitals or fire stations.
The law, known as the Safe Haven Law, protects mothers from legal action taken against them if they are not in a position to raise the child and provides the baby with a chance at life.
The Grand Prairie police later confirmed that the baby is doing well and was transferred to the Children's Medical Centre in Dallas, NBCDFW5 reported.
Please fill in your e-mail so we can share with you our top stories!