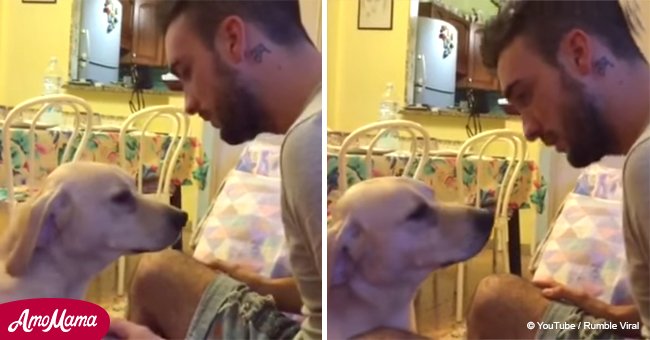 Man scolds naughty dog but she desperately asks for forgiveness (video)
This video proves that like humans, dogs are capable of having tender emotions.
A Facebook video of a dog trying to make it up to her disappointed human friend has gone viral.
The video shows Ettore the dog acting as if she was trying to apologize to her friend, Anthony Federica Granai.
While he was reprimanding her, Ettore climbed up to his lap and tried to bury her head gently on his chest.
Although the dog can't talk, anyone can guess what she is doing - she is asking for Anthony's forgiveness.
Anthony shared the heart-warming video three years ago, with the caption, 'Ti prego perdonami.' In English, it means 'Please forgive me.'
Since then, the clip has been viewed 38 million times. It has also been shared 1.2 million times.
Follow us on Twitter @amomama_usa.
Dogs and humans have been living together for thousands and thousands of years. This tender moment between a dog and a human proves that the two species are indeed best friends.
There have been several types of research pointing to dog's capacity to have human-like emotions.
Stories about dogs saving humans from danger are also aplenty. Heartbreaking stories of dogs showing grief over their dead human friends.
One such story is Sadie the dog's
When Andy Beaulieu succumbed to a heart attack, his pet, Sadie, immediately showed signs of grief.
Sadie, a 13-year-old Border collie-Dalmatian-shepherd mix, was putting her head on her loyal companion's hand and tried to nuzzle him.
"Once they stopped working around him, she came and she laid with him and pushed at his hand almost as if to get him pet her," Andy's wife, Julia, recalled in an interview with Global News.
"She was daddy's girl - she was his and he was hers," Julia added.
Sadie was in so much grief that she didn't eat for ten days. She lost 10 pounds in the process. But after taking a peek at his human friend lying in the casket, Sadie seemed to find closure. She resumed eating after that.
Please fill in your e-mail so we can share with you our top stories!