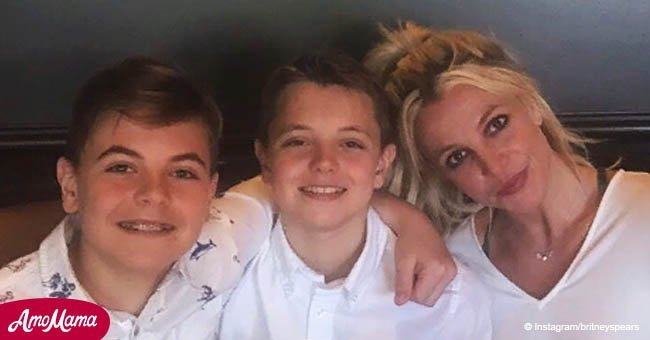 Britney Spears' son steals phone and pranks her
11-year-old Jayden James, Britney Spears' son, thought it was a fun idea to steal his mom's phone and scare her, as shown in an Instagram video.
The video, which was posted on the singer's Instagram page, showed Jayden sneaking into his mother's room to prank her.
The young boy grabbed Spears' phone and as he tiptoed to the pop singer's walk-in closet.
Talking to the camera, Jayden said, "Okay, I just stole Mom's phone and she got back from shopping and she forgot it while she went shopping. I stole it and I'm gonna scare her with it. Watch this."
He slowly walked towards the walk-in closet and yelled in an attempt to scare Spears.
Follow us on Twitter at AmoMama USA to know more about Spears' two sons.
Spears appeared startled for a bit but seemed to have anticipated the prank as her expression was not too shocked.
With a hand on her hip and pointing the other towards her son, Spears yelled, "Jayden! Not funny."
It seemed like it was though since the singer was trying to suppress a grin while her son giggled from the background.
36-year-old Spears may have grown used to her children trying to pull pranks on her. They have been doing it for years as shown on the star's social media profile.
In September 2016, Jayden and his older brother, Sean Preston, 12, was featured on Spears' Instagram page in a video where the two boys did a practical joke that had Spears falling to the ground and scared out of her senses.
The boys stole their mother's phone at the time to film the entire prank. When they heard Spears walking towards them, they hushed until the right moment when Preston jumped out and yelled.
The prank was successful since Spears screamed and fell to the floor in fear. Shortly after, she let out an angry, "Sean Preston!" on the video.
During the recent years, Spears had been a more doting mother to her sons. They have been spending more quality time together and going on vacations and such.
In one of her posts, Spears wrote, "Nothing makes me happier as a mom than watching these boys grow and smile and laugh!! They are my world and I love days like this when we get to just run around and play together."
Please fill in your e-mail so we can share with you our top stories!