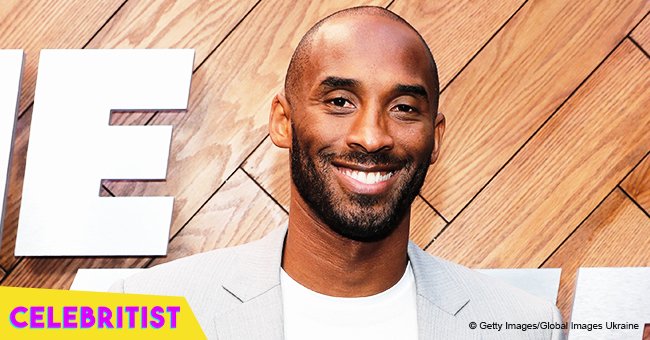 Kobe Bryant and wife Vanessa steal hearts with pictures of their 3 daughters on holiday

Kobe Bryant and his family are having a grand time in Paris and photos of their vacation have been delighting their followers on Instagram. His three girls with wife Vanessa are absolutely adorable bonding with their parents while taking in the sites of the city. See a different side of Kobe in photos below.
Kobe Bryant and his wife Vanessa are currently in Paris with their children, and they have lots of photos to prove it. The family-of-five who is set to star in a documentary about the former NBA player's life appeared to be enjoying the sights in the French capital as the couple's photos reveal. Also getting a lot of attention in their posts were their three daughters who were often featured along with their parents in beautifully captured moments.
The family visited the Louvre where Kobe and his wife posed with Nike, the goddess of victory and took a fun selfie with the famous painting of the Mona Lisa.
Kobe also stole hearts as he hugged his youngest daughter Bianka, 1 inside the Louvre and shared a quiet moment with her in the gardens of Versailles.
Meanwhile, Vanessa bonded with her two older daughters, Natalia, 14, and Gianna, 11, along with Bianka in a couple of snaps from EuroDisney.
The Bryants are about to become more prominent in the limelight. They're set to star in a documentary which will chronicle the life of Kobe since retiring from the NBA. The 39-year-old gave up his jersey numbers 8 and 24 last December during his retirement ceremony at the Staples Center. Celebrating the end of his 20-year-career, the Lakers alum became emotional as he witnessed his numbers join other Lakers Hall of Famers.
In his speech, he acknowledged those Lakers superstars who came before him: Magic Johnson, Kareen Abdul Jabbar, Shaquille O'Neal, Elgin Baylor, Walt Chamberlain, Gail Goodrich, Jerry West and James Worthy. He also thanked his fans and his family. To his wife, he said,
"Thank you, baby, for being an inspiration."
And to his children,
"You guys know that if you do the work, you work hard enough, your dreams come true."
"hopefully, what you get from tonight is the understanding that those times when you get up early and you work hard, those times when you stay up late and you work hard, those times when you don't feel like working, you're too tired, you don't want to push yourself, but you do it anyway -- that is actually the dream. That's the dream. It's not the destination, it's the journey."
Kobe and Vanessa have been married since 2001. The couple met in 1991 when 17-year-old Vanessa Laine was a background dancer on the Tha Eastsidaz music video "G'd Up' and Kobe was working on his debut musical album. After dating for six months, they got engaged in May 2000. At the time, Vanessa was still a senior at Marina High School in Huntington Beach. She quietly finished her high school through independent study and married Kobe on April 21, 2001. Kobe's parents did not attend the wedding having been opposed to his marrying so young. They were estranged for two years until Natalia was born.
Please fill in your e-mail so we can share with you our top stories!