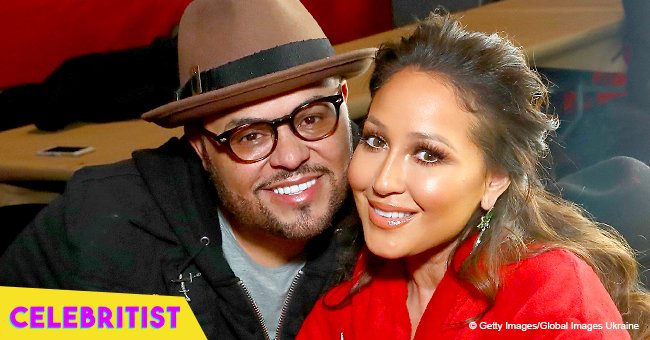 Adrienne Bailon snatches hearts in off-the-shoulder dress in sweet pic with husband Israel Houghton
Adrienne Bailon took a trip to Napa Valley with her husband Israel Houghton, and the TV host made sure to share the moment with her followers on Instagram.
"The Real" co-host Adrienne Bailon and her gospel singer husband Israel Houghton went all the way to Napa Valley to celebrate Tamera Mowry's early birthday celebration. Given that Adrienne and Tamera have been colleagues since they were younger, the married couple definitely did not want to miss this milestone in Mowry's life.
During their wine-filled celebration, Adrienne shared her co-star's beauty, who constantly goes out of her way to make life beautiful for others. The group of friends made the most out of their day at the winery, sharing candid laughs and picture-perfect moments.
Adrienne gushed about her lovely friend Tamera, whom she also calls her confidant. While some co-stars from different shows don't get along in real life, friendship between "The Real" hosts has definitely been a no-brainer for them, and they all enjoy each other's company.
Adrienne and her husband were previously criticized after Israel divorced his wife of 21 years and married her shortly after. Their quick marriage led people to hate on Adrienne who at that time, seemed to have been the cause of the gospel singer's divorce.
In order to clean the air, Israel sat down with his wife on her YouTube show "All Things Adrienne" to shed some light on their extremely misjudged love story.
During the vlog, the Christian singer said that the couple had been friends for quite a while prior to starting their relationship. They first met while filming the movie "I'm In Love With a Church Girl", and they have kept in-touch since.
"We would see each other from time to time at different functions, that sort of thing. I don't know how to put this, but you just know when someone's going to be in your life forever. You don't know in what capacity, but you just know, 'I like hanging out with them. I like talking to them.'"
On February 2016, Adrienne and Israel began dating. By that time, Israel and his wife were already separated, but they only made it public in March. At first, Israel was worried about how their relationship was going to affect Adrienne's reputation given that he just came from a 21-year-long marriage. Because of this worry, he was willing to let Adrienne go. However, when she refused, the 47-year-old was convinced that he had found true love.
"I knew she was the one, really kind of on our first real date. Our first real getaway together. It started a bit crazy and it had a lot of chaos connected to it with paparazzi and what not. I had recently announced that I'd been divorced, even though I'd been divorced for quite a while. So everybody was kind of speculating, saying different things and saying crazy things about her. At which point I just said, 'Hey, listen. I'm happy to take one for the team. This is new, you can simply say, I didn't know it was all that.' And she said, 'I was your friend before this happened. I'm your friend now, and let's just power through it.' That moment I knew, this is everything, and she is everything to me. Eight months later we were married."
The loved-up couple got married in Paris on November 11, 2016, and Adrienne's "The Real" co-hosts were some of those who attended the festivities.
Please fill in your e-mail so we can share with you our top stories!