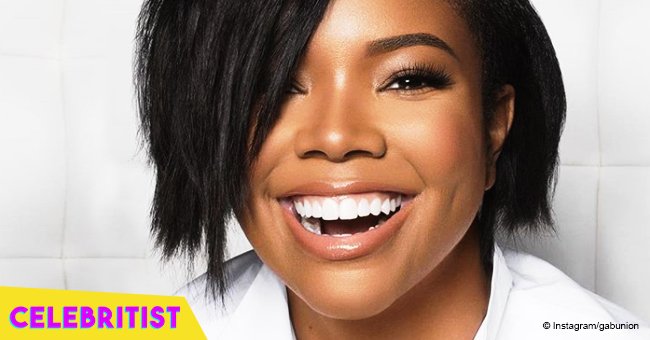 Gabrielle Union flaunts enviable curves in nude bikini after chopping off her natural hair
The "Being Mary Jane" star is currently on a summer vacation with her husband Dwayne Wade and a group of friends, and she's been flaunting her fantastic physique left and right. Her new hairstyle gave a boost to her confidence, as shown in her recent posts.
Gabrielle Union has never been shy about flaunting her curves on social media. The star is spending a few days in Europe in the company of her NBA player husband and a large group of friends, and while they enjoyed of the sunshine in Ibiza, Spain, the actress shot some beautiful pictures.
Showing off her curves in a two-piece beige bikini that favors her athletic figure, Union posed at the beach sporting a massive smile on her face and keeping her newly short hair away from her face with a stylish headband. She completed the look with large hoop earrings and some beaded bracelets.
"How I De-Stress," she wrote in the caption her pics, and added the hashtag she and Dwayne have been using for their trip "#WadeWorldTour2018." The couple, married in 2014, love traveling around, usually with Wade's kids, but this time it seems like they chose to have an adults-only getaway.
Gabrielle is rocking her new hairstyle, a short bob that she documented on Instagram because of its significance: it is the first time in years that the actress dares to cut her hair. Even though she's always rocking different hairstyles, most of it has been wigs or weaves, but never her natural hair.
The 45-years-old loved the change, and she shared a video rocking, literally, with her new hair, playing air guitar and shaking her head to the rhythm of the music to show off the straightened bob's movement. She wrote:
"CRAZY for my new haircut from the hair guru @larryjarahsims 1st time I've EVER significantly cut my OWN hair in my life, and I LOVE IT!!! Not a wig or a weave... wanted something new and different so I did the damn thing and you can't tell me nada."
Speaking with Allure about her journey to self-acceptance with her hair, Gabrielle revealed last year that when she started to audition for roles in Hollywood, she discovered that the women who used to get the parts were sporting luscious and long weaves, so she became one of them.
"It reinforced this idea that the closer I get to a Eurocentric beauty ideal, the more I will be rewarded," she said. Now, the actress switch between her natural do, and her weave, and she even created a haircare line, Flawless, which specializes in textured hair.
"If you have embraced natural hair, that is amazing. If you love to rock weaves and wigs and extensions, that is amazing, too. No matter what part of the journey you're on, I'm giving you a high five. Zero judgment," she concluded.
Please fill in your e-mail so we can share with you our top stories!