Dad dresses as Beast and surprises daughter with autism in fairytale dance
A father planned a special surprise for her special-needs daughter, who is also a fan of the fairy tales.
CBS Local shared a video clip showing a father dressed up as 'Beast' from the fairytale, Beauty and the Beast, to delight her daughter, Alison Van Reenen, during 2017 Halloween.
His daughter, who is a special-needs child, was dressed as the character Belle from the same story. The source informed that Allison was a huge fan of fairytales.
The video clip shows Allison coming down the stairs to answer the door, dressed in a yellow dress resembling that of Belle.
When she opened the door, she was treated to an extra surprise by her father, who appeared dressed as 'Beast.' He even wore a mask resembling the character. The father-daughter duo even shared a dance to the tune of the movie's theme song in the hallway.
The video was also posted on Twitter by Allison's younger sister, Carleigh, who captioned her post by informing that her sister has autism.
My older sister Allison has Autism and she wanted to be Belle for Halloween. My dad decided to surprise her and dress up as the Beast,' she wrote in her Twitter post.
The sweet gesture from the father was much appreciated by the Twitter users, who showered in comments of praise and adoration to the post.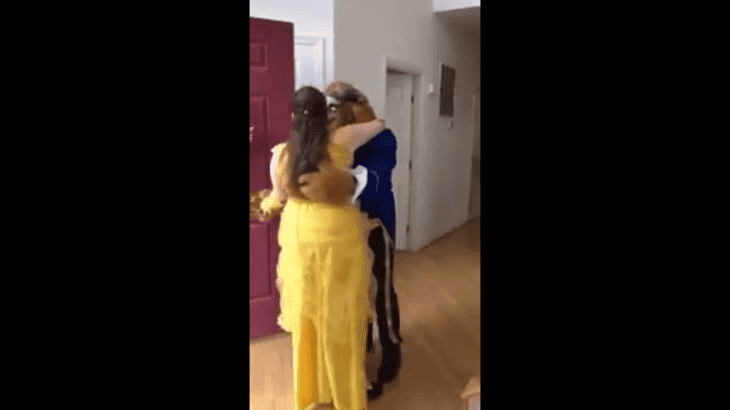 A Twitter user, Candace Tan, called the incident a 'beauty' and wrote, 'I salute you for showing much love to your sister. I am a college student studying Special Education.'
Tan further wrote that she wanted to get in touch with Carleigh to talk further for 'possible project' for Allison. Another user, Sam, wrote that the video made her cry. She also termed the video 'precious.'