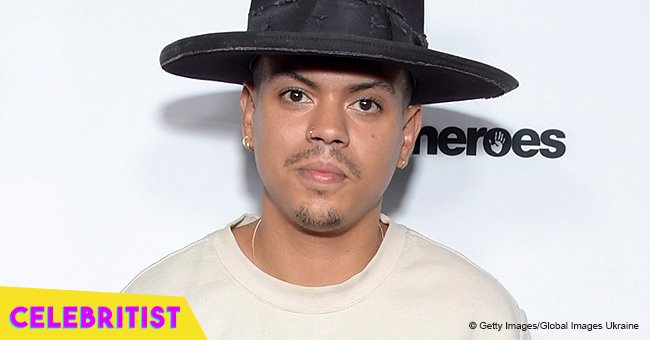 Diana Ross' son Evan brings smiles & tears while being carried by Michael Jackson in old pic
A young Evan Ross is carried by Michael Jackson in an adorable photo he posted to commemorate the singer's 9th anniversary. After Michael's tragic death, he revealed he was working on an album with the late singer and even shared a story about him he would never forget.
Evan Ross unearthed a photo of him as a young boy being carried by the late Michael Jackson just in time to celebrate his 9th death anniversary on June 25. The son of another music legend Diana Ross wrote "Missing you!" to accompany the photo he shared that revealed his special closeness with the King of Pop.
It's no secret Evan grew up inspired by the late singer who even mentored him and assisted him with his music. Right before his death. Evan was working on an album under the guidance of the 'Thriller' star and his mother. He revealed Michael had written some songs with him, but he took his time with the album after the singer's death saying he didn't want to rush it and would put it out there when he was ready.
A few months after Michael died, Evan celebrated his 21st birthday paying tribute to the man he considers his brother. He had a Michael Jackson-themed party at the Guys & Dolls nightclub in West Hollywood and entertained his guests with songs of the hitmaker. Waitresses were even wearing white studded gloves and fedora hats to keep with the Jackson vibe.
Evan had many fond memories of the singer. He remembered listening to Michael's stories about his trips with his mother, Diana. Michael was very close to the 'Supremes' diva and looked up to her as a second mom. But one story he would never forget reminds Evan of how humble and curious Michael always was.
He recalled in 2015 during an interview with Global Grind TV how Michael patiently stayed on the phone while he was partying at a club. He said,
"I was at Gold Bar in New York at a club and he called me at 2 in the morning and he was like, 'What are you doin? Applehead!' He used to call me, we used to call each other applehead."
Evan said he was at a club and told Michael he'd go outside so he could hear better. But the singer insisted.
"'No, no, no,' he said, 'I wanna hear.' He said, 'Put me on speakers'. So I put him on speakers and let the club play for a little bit."

Michael just stayed on the line listening to what was going on.
"He always stayed in touch with what people were liking at that time. He was very aware of what was going on. He just stayed up listening. I just kept the phone on the table at the club with the speaker on."
Evan's recollection of the singer was one of a caring, brilliant man who loved his mother dearly and that love extended to him. That's why he still misses him after nine years. The photo he shared recently was proof of that love. Little Evan probably 7 or 8 at the time, was smiling while the legendary singer carried him. It was clear he doted on the young boy who seemed to enjoy being in the presence of the superstar. Here's the photo that reminds us of how loving and caring the singer truly was.
Please fill in your e-mail so we can share with you our top stories!