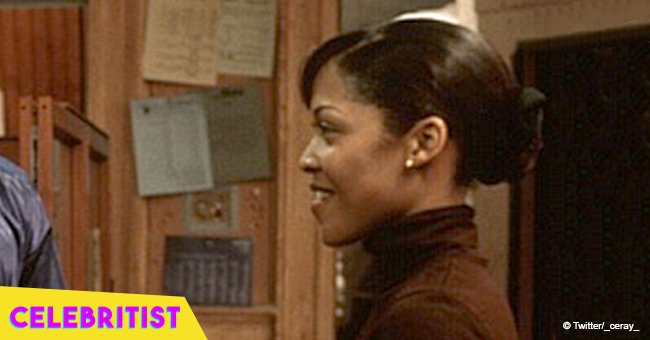 Remember Mia from 'The Best Man'? She quit acting to raise a special-needs child
Monica Calhoun is better known for her role as Mia on the film "The Best Man" and its sequel, "The Best Man Holiday." However, her workflow has been slowing down in the past years, and its because she has been dedicating most of her time to taking care of her blind son.
The stunning actress has also made appearances in other films like "Sister Act 2: Back in the Habit," where she shared acting credits with Whoopi Goldberg, "The Player's Club," "No Regrets," and series like "Bagdad Café," "Grey's Anatomy," "NYPD Blue," "Diary of a Single Mom," and most recently "The New Edition Story."
Monica makes her work seem effortless, but she leads a very fast paced life behind the scenes. The actress has a son with special needs that she kept away from the spotlight through his childhood, so we don't know exactly how old is he or who is the father, but considering that Monica seems to be raising the young boy by herself, is safe to assume that the progenitor is nowhere to be found.
The 46-years-old beauty is continually sharing videos and photos with her boy on Instagram, and fans love how dedicated and loving she is with him. The boy is blind, and he seems to enjoy music a lot, especially jazz since he recently attended a festival with Monica where he looks at peace listening to the upbeat songs.
What's more interesting is that Monica's little brother is also blind. Her mother, Lorraine Calhoun, made it to the headlines when Monica and her brother were toddlers. She had moved the family to the Virgin Islands, and the government there didn't have assistance programs for low-income families with special needs children. So the lady took it upon herself to push the lawmakers to change that.
We can say that Monica trained with her brother to take care of her son, even if she didn't know at the time. Speaking to SmartalecMusic a few years ago, the actress opened up about growing up with a blind brother, as reported by I Love Old School Music:
"The way I grew up is just a little bit different than everybody else because my brother was born blind. So my perception of the world and things are just a little bit different. My compassion and my sensitivity are heightened because of my brother's blindness…and spending a lot of time with him. And you know, teaching him things that I've learned…and then vice versa somewhat. Me spending time with him at his programs…like 'The Braille Institute'…just different little things."
These days, Monica is spending a lot of time with her son as the summer embraces them, and they have been enjoying some delicious food, music and most importantly, each other's company.
Even though her workflow is not as fast as it used to be, Monica seems to have found some time to dedicate to her acting career, and according to her IMDB page, she has three projects coming up for the next year.
We're glad to know that Monica is such a dedicated mother, she has a sweet relationship with her son, and we hope she can find a balance in her life so that she's able to go back to the acting world as well.
Please fill in your e-mail so we can share with you our top stories!