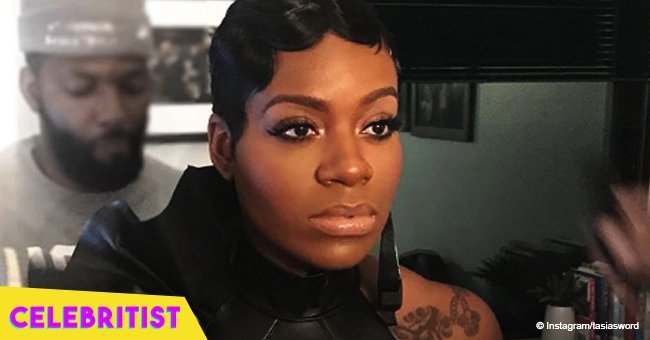 Fantasia flaunts deep cleavage in black outfit in video singing with Anita Baker & Stephanie Mills
Snoop Dogg recently made the world a favor by sharing a behind the scenes clip of three iconic voices of the R&B industry from two different generations singing together. Anita Baker, Stephanie Mills, and Fantasia Barrino looked incredible as they belted out some high notes as if nothing.
Last weekend, Anita Baker, one of the most iconic voices of the music industry, was honored with the Life Achievement Award at the 2018 BET Awards. The award, presented to her by Tyler Perry, gave the singer the opportunity to address her veteran fellow singers to ask for something important of them.
In her emotive speech, the 60-years-old soulful singer said:
"All I would ask is that the music be allowed to play, that singers are allowed to sing, and rappers are allowed to rap, and poets are allowed to rhyme. And I would ask the singers that are veterans here, when you see the young ones, tap them on the shoulder, they need you. And young ones, now that you're here tonight look around the room and find a veteran, and tap them on the shoulder and introduce yourself. Let's take care of each other; we need each other; we can't do it alone."
True to her words, Anita set the example by sharing the stage with Fantasia at the Jazz in the Gardens Music Festival a week before the Awards. The singers, who had met before only through social media, took the stage by storm by blending their voices while singing one of Anita's greatest hits.
And as if that wasn't enough, Snoop Dogg, who was at the Festival, shared an exclusive clip of the pair singing "Sweet Love" joined by another iconic singer, Stephanie Mills.
Fantasia looked incredible wearing a mini black dress with a plunging neckline that put her cleavage on display while Anita wore a comfier outfit with a black and pink dress and black pants, and Stephanie rocked a lime green and black dress.
The 33-years-old vocalist has been taking back her rightful place in the music industry this year. A few weeks ago she killed it on stage at the Songwriters Hall Of Fame 49th Annual Induction and Awards, just four months after the tragic death of her 18-years-old nephew.
Tyquan Vonricco Washington was fatally shot in Greensboro, North Carolina, according to authorities. Fantasia and her family took to social media to express their indescribable pain and grief. A man named David Lee White, Jr., 21 was arrested and charged with first-degree murder in connection with the incident.
These days Fantasia is working on a new album. Meanwhile, Anita Baker is doing her farewell tour before officially retiring from the game.
Please fill in your e-mail so we can share with you our top stories!